SPORTS AND RECREATION INSURANCE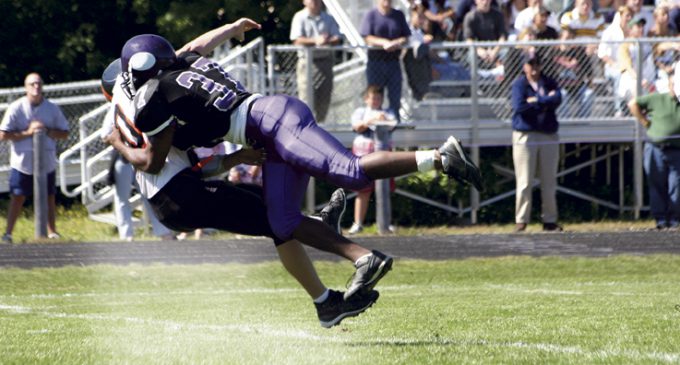 Specialty Lines Markets
SPORTS AND RECREATION INSURANCE
Football takes a hit, but other sports find ample coverage at a good price
By Joseph S. Harrington, CPCU
It seems that the market for insurance of sports and recreation is ever-changing but pretty stable.
The number and variety of team and individual sports continue to grow, as lacrosse, ice hockey, indoor soccer, and competitive cheerleading expand while traditional American pastimes like baseball and tackle football see a leveling off or decline in the number of participants.
Likewise, there has been a shift in organized recreational sports. Local youth and adult leagues open to all willing participants are still around, but have lost ground to competitive travel clubs that play selectively in tournaments.
Yet the overall number of participants has grown little, if at all. The percentage of children ages six to 12 playing team sports on a regular basis has fallen steadily since 2011, according to an annual study by the Sports & Fitness Industry Association (SFIA) and the Aspen Institute.
"Having a carrier that can produce a policy quickly is useful, as some teams and leagues don't realize until the beginning of a season that they are required to carry insurance."

—Anthony Vellutato
Second Vice President and Marketing Manager
Gateway Specialty Insurance
As for adults, there is anecdotal evidence suggesting both increases and decreases in organized sports participation. But a 2019 report by the Physical Activity Council indicates that, while participation in individual fitness and outdoor activities increased noticeably between 2013 and2018, participation in team sports remained essentially unchanged over the same period, at around 22% of adults.
In all, "casual participation is growing, while core participation is declining," according to the SFIA.
Organizations needed
Whether and how Americans get their exercise matters to insurance carriers and producers who insure sports and recreation. While any form of recreation has hazards that require insurance, the market for nonprofit sports coverage consists of leagues, teams, and clubs.
There's plenty of underwriting capacity competing for that stable pool of accounts. "The market is saturated with accident and health carriers looking to write business, and rates are stable," says David Sefcik, director of accident and health for Alive Risk, a sports, media, and entertainment division of All Risks, Ltd.
"The current market is both soft and hard, depending on the sport," says Anthony Vellutato, second vice president and marketing manager for Gateway Specialty Insurance, a Berkshire Hathaway company. "By that, I mean that most carriers are fairly stable with their sport offerings, but with recent concussion awareness being a topic of discussion, some carriers are no longer offering general liability coverage for tackle football."
Mark Beck, senior vice president for mass merchandising for K&K Insurance, adds that "pricing in the small business end of our target markets seems to be stable. Underwriting appetites seem to be holding fairly stable, with some companies naturally moving into and out of certain segments according to their own results."
As for claims, Beck is not seeing any changing trends in loss frequency or severity. "The most common type of loss continues to be a result of slips, trips, and falls resulting in injuries," he explains. "Because of that, many of our programs include accident medical coverage."
Accident medical
It is common for sports league insurance programs to include a no-fault accident medical policy to address routine athletic injuries, while reserving CGL coverage for severe injuries with potentially catastrophic financial consequences.
"Typically, the accident medical coverages provided in our programs pay excess over any other valid and collectible coverage," says Beck. "So, if a participant is covered under a health insurance plan, our coverage will pay after those benefits are used, or may be used to cover deductibles and other out-of-pocket expenses—many of which are much larger these days."
Vellutato concurs, noting that "usually, accident medical coverage would be excess of a participant's health insurance.
"Depending on the severity of the claim," he continues, "the loss could potentially be shared with both the health insurer and the accident medical insurer, but health insurance is usually the primary coverage."
It follows, says Sefcik, that accident medical policies for sports and rec organizations would experience more claims in regions where there are higher percentages of people without health insurance.
"More claims tend to happen in regions where the population may not have primary health insurance coverage, or have chosen to opt out of it," he says. "Most primary health insurance coverages have higher deductibles with 80/20 coinsurance, thus increasing the frequency of the secondary or excess accident medical claims covered under the sports plans.
"Because primary health plans are in place, there are fewer catastrophic claims filed under the insurance coverage offer-ed by the sports organizations plan."
Abuse and concussions
One factor affecting the market for sports and recreation insurance is an acute fear of liability for physical and sexual abuse in the wake of highly publicized scandals involving major universities and sports organizations. "Coverage for abuse is a big challenge," says Brenda Campbell, Alive Risk's director of sports and leisure. "Schools and parks are increasingly requiring users to have abuse coverage at high limits, even above the usual $1 million occurrence and $2 million aggregate.
"With abuse cases so prevalent in the news, it's getting hard to get those limits," she adds. As a result, Campbell finds that leagues, teams, and clubs are seeking alternative venues in private facilities.
Another trend Campbell sees is the introduction of liability coverage exclusions or sub-limits for concussion injuries, a reflection of the growing concern over participation in tackle football and other contact sports.
In its "Future of Football" report, the Aspen Institute notes that participation in high school football fell for the fourth consecutive year in 2017, even as participation in other high school sports increased. Over roughly the same period, the number of participants in youth football (pre-high school) fell 17.4%.
The cause of the decline is well known by now: fear of permanent brain damage from concussions. In light of that risk, more than three-quarters of Americans believe it is inappropriate for children to participate in tackle football before age 14.
Some insurers apparently agree.
"A lot of carriers are non-renewing or no longer writing tackle football," says Vellutato. "Football isn't the only sport where concussions are an issue, and other sports could see coverage removed from the market, although there hasn't been much evidence yet to support that concern."
"Concern for head injuries has prompted some markets to change their underwriting appetite and coverage offerings for tackle football and other sports that may have higher concussion rates," says Beck.
Opportunity for producers
Despite challenges in the market, Beck says that "opportunities for agents to find success in the sports, rec, and leisure insurance space has been, and continues to be, excellent.
"To make the most of these opportunities producers should educate themselves about the segments they want to pursue," he says. "They should also partner with carriers and intermediaries that specialize in these segments, and look for markets that have successful experience—especially in claims handling.
"If you have a large loss, you are less likely to experience a non-renewal or a change in carrier if your current carrier has experience with a large claim."
Vellutato adds that "having a carrier that can produce a policy quickly is useful, as some teams and leagues don't realize until the beginning of a season that they are required to carry insurance.
"More than 75% of children are involved in [organized] sports, and almost 25% of adults, as well," he says. "With all these opportunities to insure leagues, teams, camps, and clinics, there are a lot of potential policies out there for the taking."
"There is a lot of opportunity for local agents and brokers," notes Sefcik. "Much of this business is too small for the mid-sized and larger brokers to target, so the local agent could become an expert in the niche."
For more information:
Alive Risk
www.aliverisk.com
Gateway Specialty Insurance
www.gatewayspecialty.com
K&K Insurance
www.kandkinsurance.com
The author
Joseph S. Harrington, CPCU, is an independent business writer specializing in property and casualty insurance coverages and operations. For 21 years, Joe was the communications director for the American Association of Insurance Services (AAIS), a P-C advisory organization.
---
COVERAGE FOR INJURIES INCURRED IN ORGANIZED SPORTS
Since claims can be both frequent and severe, nonprofit adult and youth sports programs are typically required to purchase liability insurance to cover bodily injury and property damage to participants, spectators, and others.
An insurance program for an athletic team, league, or club will usually consist of:
An accident medical policy to address relatively minor injuries sustained during participation
A commercial general liability policy to cover the organization's liability for a catastrophic injury or series of injuries
Personal health insurance policies typically cover the cost of care for injuries sustained in recreational activities so, as a practical matter, accident medical policies are usually triggered only or injured participants who have no health insurance. That is not a hard and fast rule, however, and some health insurers may seek reimbursement from an organization's accident medical and/or CGL policies.