STARTING FROM SCRATCH
Grit and determination power a successful brokerage and HR consultancy
Our Broken Glass series continues with profiles of women who have achieved success in the independent agency and brokerage business. This month we meet a mother and daughter team who established an employee benefits brokerage that built a multi-million-dollar book before it merged with a top benefits provider. After serving as an executive with the provider, the daughter, Laurie Miller, formed her own benefits brokerage and human resources consultancy in Rockford, Illinois.
It's not every mother and daughter who can work together harmoniously—let alone take on the challenges of starting an agency from scratch.
For Laurie Miller and her mother, Mary Lou Buettner, facing and surmounting those challenges served to strengthen the already strong bond between them, forged when in 1998 they started a benefits brokerage and consulting business. In 2012 they merged their firm with Gallagher Benefit Services, and in 2017 Miller formed 2HB Human Resources & Benefits Solutions, a benefits brokerage that also provides human resources consulting services. 2HB partners with Zywave to offer its clients an array of HR resources, including compliance and wellness programs. Other services are training, recruiting and staffing, interim HR, and HR outsourcing.
"Dealing with a non-compete agreement, we have had to rebuild from scratch," Miller says. "It's been quite an undertaking. To differentiate ourselves from other benefits brokers in the marketplace, we added HR outsourcing services, which have been well received by overburdened employers, typically in the small to mid-sized group market."
2HB, Miller explains, obtains referrals from a network of providers, but its most significant source of referrals is satisfied clients. "Sometimes decision makers will move to another employer and take us with them," she adds.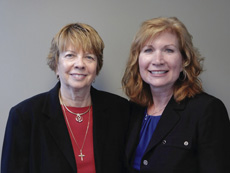 Miller is president of 2HB; in addition to her, the team consists of Sherrie Sisco, vice president of human resources solutions; Robert Miller, vice president of business development; Bonnie Bloomquist, client services; Tracy Luethje, account manager; and Jessica Spencer, Medicare and individual health specialist. The firm is located in Rockford, Illinois, some 70 miles northwest of Chicago and the largest city in Illinois outside the Chicago metropolitan area.
"In the last couple of years, more carriers and third-party administrators have come to Rockford than I've seen in many years," Miller remarks. "Because we represent the client, we place business with the provider that best meets each client's needs, whether it's a fully insured or a self-funded plan. I like working in the self-funding arena because it allows me to be creative in designing a custom program."
In terms of a target market, Miller says, "Our sweet spot is employers in the middle market—those that are large enough to have HR needs but not large enough to justify having a full-time HR person. Recently I met with the owner of a company that is growing and needs to hire additional people, but he realized they just didn't have the bandwidth to deal with all the operational changes and also handle the HR issues. That's a typical client for 2HB.
"In the Rockford area we don't have a lot of giant companies; the average employer has between 50 and 250 workers," Miller continues. "That's a market in which we're extremely successful."
Back to the future
Now, back to that agency Miller and her mother established in 1998.
"Laurie had the courage to think about starting her own agency, and she pretty much gave me an ultimatum: 'Are you coming in with me or not?'" says Buettner. "I had many years of insurance experience, and I decided to get on board. A long time ago someone said to me: 'You are the sandbag, and she is the balloon.' At the time that hurt my feelings, but I came to understand that a successful business can't run with two balloons or two sandbags—it takes one of each to maintain a balance."
Adds Miller: "I love working with my husband, who is our vice president of business development—and I loved working with my mother. I had one ofmy best friends right here at work. We could talk about anything, and we always knew each of us had the other's back."
A great deal has changed since Buettner began her career, and that includes attitudes toward women in the insurance business.
"I started with Aetna in 1969, and, like most other women, I didn't    expect anything to be different from the way it was," Buettner recalls. "At that time most of the lower-level jobs were done by women, and the few men held managerial and executive positions.
"I remember when Aetna appointed its first female sales representative. At that time Aetna called its sales reps Home Office Representatives, the abbreviation of which is HOR. For obvious reasons that wasn't going to work for female sales reps, so the title was changed to Group Sales Representative. After a sales meeting, the men would go to a club that didn't admit women, so the female rep was excluded.
"Today women are much better educated than they were in the late 1960s and 1970s, and that makes a big difference because many more women now have the qualifications to hold executive positions," Buettner observes.
Miller started her career in 1991 at an HMO. "At the time all the top positions were held by men, but I was very young and didn't really think much about it," she says. "I do remember that after sales meetings the men would go out to have drinks and socialize, and I wasn't always included. I think women expect more now. They expect a seat at the table, and they're working hard to get there. Younger women who want to be owners and brokers expect to be treated equally. But we still have a long way to go because the insurance industry and the whole financial services sector continue to be heavily male dominated."
What qualities do Buettner and Miller think women bring to the insurance business?
"I think women are more empathetic, compassionate, patient, and detail oriented," Buettner responds. "Putting it all together, we want to solve somebody's problems, no matter what it takes."
Says Miller: "I see myself as a catalyst and a connector. As a catalyst, I make sure my clients accomplish the things they need to execute on because they face so many distractions. As a connector, I put them in touch with any kind of resource they need, whether personal or professional. I think women excel at connecting people to other people or to professionals in different fields. And I agree with my mother about women being detail oriented. We carefully read every policy and contract. We once had a rep show up here who hadn't even read his own policy. When we asked questions about provisions in the policy, he couldn't give us answers."
Advice to young women
What advice would Buettner and Miller offer to a young woman who is contemplating a career in the insurance industry?
"I think you always need to be learning," Buettner says, "not just about insurance but about what's happening in politics and society, both nationally and locally. Keeping up with current events is important to me, and I think it's essential for young people to do the same."
An insurance career, Miller says, offers both flexibility and the potential for high earnings. "I've raised four children while working full time, and I've been able to attend their games and school events as long as I'm willing to make up the time before or after office hours. I think it's an absolutely great opportunity for a young woman to balance family and work and have much higher than average earning potential."
By Elisabeth Boone, CPCU
Do you know a female agency owner, principal, or executive who might make a good subject for a future Broken Glass profile? If so, please contact Elisabeth Boone, CPCU, senior features editor of Rough Notes magazine (elis.boone@icloud.com) and provide some details about the woman as well as contact information. We'll take it from there.