The Young Pro-Files
THE FIRST DECADE
Young professional joins the industry after internship experience and now leads a specialty program
By Christopher W. Cook
In the insurance industry, certain dedicated young professionals stand out among their peers and are members of an elite squad of individuals. These are their stories. "Dun dun."
A lot can happen in a decade. For example, ten years ago, I was not a dad or married or even working at The Rough Notes Company. Heck, I was still driving my late-90s-model Ford Escort (insert "rock on" emoji here).
In 2011, Murphy Holderness, a business insurance consultant with Marsh & McLennan Agency (MMA) in Greensboro, North Carolina, completed an internship with Northwestern Mutual while in college. The following year, he earned a degree in business administration from North Carolina State University and opted for a career in insurance after his internship experience. By 2016, he was leading a specialty program offered by his firm.
"My family has always had close ties to insurance, which ultimately led to me getting involved in the internship," Holderness says. His father has had a successful career working for The Todd Organization, an executive benefits strategies development firm, and his cousin began working for MMA prior to Murphy joining the team.
"While life insurance and financial planning were not a perfect fit for me, I did get great insight during the internship into what an insurance career could potentially look like," he continues. "I loved the entrepreneurial spirit, as well as the flexibility and the ability to control your own book of business and relationships, which led to me pursuing a career in insurance after college."
Holderness's career started at CNA as a commercial technology underwriter. "CNA had a great underwriting trainee program that really gave me a strong foundation of commercial insurance," he says. "After almost three years as an underwriter with CNA, an opportunity presented itself to move back to my home state of North Carolina and join Marsh & McLennan Agency, where I've been for the past seven years."
At MMA, Holderness became involved with its Protect My Tuition program.
"Independent schools are reliant on the tuition of their students in order to operate," Holderness says. "In an increasingly volatile world, withdrawals and discharges happen for a plethora of reasons. Protect My Tuition helps provide peace of mind for business offices by eliminating uncertainty over whether a student will honor their contract and pay their tuition obligation in the event of a withdrawal or discharge.
"It has been extremely exciting to grow a product from the ground up and to know that seven years in we continue to have success and grow."
For his own personal growth and success, Holderness has earned his Commercial Lines Coverage Specialist (CLCS) designation from the National Underwriter Company and is currently working on obtaining his Chartered Property Casualty Underwriter (CPCU) designation.
"I am amazed when going through designations and additional learning by how many areas of expertise there are within our industry," he says.
Involvement and advice
In addition to continuing his education through designation courses, Holderness also finds value in joining industry-specific associations.
"I am heavily involved, particularly in healthcare and education associations, as well as internal national Marsh & McLennan Agency industry verticals," he says. "I've been active in the NCCHCA (North Carolina Com-munity Health Center Association) conferences, where I am able to support my clients while also keeping up to date with their industry challenges. For education, I annually attend the NBOA (National Business Officers Association) annual meeting, where we also support clients and learn about industry trends.
"Within MMA, I am very active in the Human Services and Not-For-Profit verticals, where we collaborate to continue to innovate and bring best-in-class service and solutions to our clients."
Holderness also spends his time volunteering outside of the industry.  "I am an Eagle Scout, and am currently volunteering with the Greensboro Sports Council as I work towards applying to be a member to get even more involved locally. Earlier this year, I volunteered as a timer at the Atlantic Coast Conference (ACC) Men's Swimming Championship held at the Greensboro Aquatic Center. It is exciting to watch and help promote the city of Greensboro."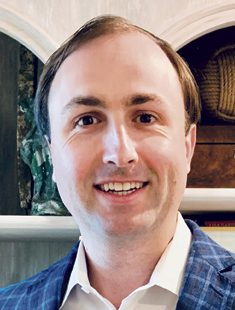 When it comes to advice for young or new professionals to the industry, Holderness suggests to "learn as much as possible. There are a ton of talented professionals in the insurance industry, with the landscape only getting more competitive.
"In order to differentiate yourself, I believe it is very important to learn from those who have already succeeded and then develop a routine that works for you. I would get as many mentors as possible and learn how they handle their business.
"It is important to develop a niche, surround yourself with experts, and then to trust your team to execute. We all have our strengths, and at the end of the day our entire team is working towards the same solution of solving a problem for our client or prospect. Collaboration and expertise are critical to success.
"I think I am known as a someone who enjoys solving challenging problems," he continues. "As long as you are transparent with your carrier partners, clients, prospects, and service team, there is no reason not to try to think outside of the box to bring unique solutions to your clients. Placing coverage is just part of what we do as agents; more important, we have to find a way to add value to our clients.
"Anytime that we can present a solution to solve our clients' problems, especially something they've never seen before, it is a win/win all the way around. I enjoy trying to bring an innovative approach to insurance and MMA gives me a tremendous platform and resources to execute new ideas."
While it's only been 10 years since his college internship, Holderness has experienced several highlights in his growing career. "Some of my favorite moments over the last decade include managing Protect My Tuition from its inception to the first policy in 2015, being named a Chubb Rising Star, developing a unique program for veterinarians, partnering on an innovative solution for professional liability, attending various association conferences, and participating in a risk control survey on the roof of a 40-plus-story building in downtown Chicago."
Holderness also cites "the numerous relationships I've developed along the way with both clients and colleagues. I'm an extrovert, and insurance is definitely a relationship business. I enjoy getting to collaborate with clients and team members every day. Insurance continues to present different challenges and opportunities, which I think keeps our industry exciting.
"I have been extremely fortunate throughout my career to work with some of the best minds in the industry, both as mentors and colleagues," he continues. "I have worked on very welcoming teams that encouraged me to come along on risk control calls, claims visits, sales calls, service meetings, planning calls, etc.—essentially to join any and every available meeting to gain insight into all the processes of the insurance cycle."
When he's not doing "insurance stuff," Holderness enjoys traveling with his wife, meeting new people, trying new restaurants and exploring new cities.
"We have a 3-year-old mini labradoodle that we enjoy taking to parks and breweries in our hometown of Greensboro. I try to be outside as much as possible and love playing golf," he concludes.
In golf, the word "fore" is yelled to warn other individuals who may be standing in the flight path of an incoming ball. This may cause them to look skyward. For those on the golf course who hear this warning, "keep watching the skies." Stretching it again, but I think it works.