THE VALUE OF NETWORKING
Why making connections is essential for young professionals
By Heath Shearon
---
As a young insurance professional or outside producer, building a successful career can be a challenging task. The insurance industry is highly competitive, and it can be difficult to stand out among the many qualified candidates vying for the same positions or competing for business. However, one of the most effective ways to build your career in the insurance industry is by networking.
When I first got into the insurance business with my father, he took me to a trade show hosted by the local chamber of commerce, where we had a booth for our insurance agency. I will never forget that moment. It was a fantastic experience for me as a 21-year-old, incredibly outgoing "kid." I was able to meet so many people at one time and build relationships, as well as watch my father masterfully work a trade fair booth.
You see, as you walked into the trade fair hall, the room was filled with the incredible aroma of Otis Spunkmeyer chocolate chip cookies. People followed that scent around the trade hall to none other than our booth. I thought my dad was a genius, and he proved me right that day.
The smell of cookies would bring them in, and I was able to serve fresh, warm chocolate chip cookies while I observed my dad setting appointments left and right. This was my first experience in networking and it changed my life forever.
Networking is the process of making connections with other professionals in your industry, and it can be an incredibly valuable tool for young insurance professionals and outside producers. There are a few reasons why networking is so important:
Access to opportunities. Networking can provide access to opportunities that you would not otherwise be able to access. By building relationships with other professionals in your field, you can learn about job openings, industry events, and other opportunities that can help you grow your career or find new business. For outside producers, networking can help you identify potential referral partners or new clients, which can be critical to the success of your business.
Building relationships. Networking is all about building relationships with other professionals, and these relationships can be incredibly valuable throughout your career. By establishing relationships with other insurance professionals, you can learn from their experience, get advice on difficult situations, and even find mentors who can help guide you through the early stages of your career. For outside producers, building relationships with potential referral partners can lead to a steady stream of new business, helping to grow your revenue and establish your reputation in the industry.
I am a firm believer that we are stronger together as independent agents; I can say that right now the majority of my closest friends in the world are my peers in this industry. Some are even my competition, some are co-workers, and others are industry professionals whom I can lean on for advice or just go have a beverage with.
Establishing yourself as a thought leader. Networking can also help you establish yourself as a thought leader in your field. By attending industry events, participating in online forums, and sharing your knowledge with others, you can demonstrate your expertise and build a reputation as a knowledgeable and skilled insurance professional or outside producer.
[N]etworking is a long-term process, and it requires ongoing effort and dedication. Building a strong network takes time, but the rewards can be significant.
The name of the game in this industry, in my opinion, is relationships! I always try to identify people in the industry who
can push me to get better, propel me to get out of my comfort zone, and challenge me each and every day, and also those whom I can mentor.
When you surround yourself with these types of individuals you cannot help but be successful. When you do this, you cannot help but be seen as a thought leader, even if just by osmosis, so to speak. This can also help you stand out from other candidates when applying for jobs or seeking out new business opportunities.
Networking stats
If you still aren't convinced that networking is valuable, check out a few statistics:
According to a survey by The Hartford, 80% of small business owners say that networking is important for growth.
A LinkedIn survey found that 85% of all jobs are filled through networking.
A study by The Muse found that 70% of jobs are not even listed publicly, which means that networking can help you access opportunities that would not otherwise be available.
A study published in the Harvard Business Review found that people who have diverse professional networks tend to be more successful than those who have more narrow one.
Tips for networking success
If you're a young insurance professional or outside producer looking to build your network, here are five tips you can follow to help you get started:
Attend industry events. Attending industry events such as conferences, trade shows, and seminars is a great way to meet other professionals in your field. Since day one, I have made it a point to attend at least one networking event per quarter, whether it is a big conference, a CE class, or even a volunteer event or after-hours function. These events provide opportunities to learn about new products and trends in the industry while also networking with others who share your interests.
For outside producers, attending events specific to the industries you serve can help you meet potential referral partners and learn more about the challenges and opportunities in those industries. This is even more important for those looking to grow a niche.
Join industry associations. Joining industry associations is another great way to build your network. These groups provide opportunities to attend events, participate in committees, and network with other members. For outside producers, industries you serve can help you gain credibility and establish yourself as an expert in those industries.
Utilize social media. Social media platforms such as LinkedIn can be powerful tools for building your network. Create a professional profile that highlights your skills and experience, and connect with other professionals in your field. Joining groups related to your industry can also provide opportunities to network and learn from others in your field.
It doesn't matter which groups or which social media platforms you utilize; just find one that works for you and be consistent. Post often and feed the algorithms, baby!
Volunteering for industry associations or nonprofit organizations can provide opportunities to meet new people and make a positive impact while building your network. Look for opportunities to serve on committees or participate in events where you can meet other professionals in your field. This is most likely the biggest "ninja trick" in this article. Those who volunteer and get involved in whatever industry they are targeting or even within the industry are far more likely to see success; I can almost guarantee that.
Follow up. What is the point of making the connection if you are not going to follow up? Collecting business cards is not the same as collecting baseball cards. Just like you, these people are busy; they have a lot going on as well. This is why it is crucial to follow up.
Making connections is only the first step in building your network. It's important to follow up with new contacts to stay in touch and build a lasting relationship. Send follow-up emails or messages and share relevant news or updates about your professional and personal life.
Keep in mind that networking is a two-way street, and it's important to be willing to offer help and support to others as well.
I am so thankful that my father introduced me to networking the way that he did. I have built my entire career on relationships and networking. Networking has been a crucial component of building a successful career for me as an insurance professional. I can almost guarantee the same for you. It can help you access new opportunities, build valuable relationships, and establish yourself as a thought leader in your field.
By attending industry events, joining associations, utilizing social media, volunteering, and following up with new contacts, you can build a strong network that will help you achieve your career goals and grow your business.
Remember that networking is a long-term process, and it requires on-going effort and dedication. Building a strong network takes time, but the rewards can be significant. By investing in your network and building meaningful relationships with other professionals in your industry, you can position your-self for success in the competitive world of insurance.
So, go ahead and start networking today. Attend industry events, join associations, and connect with other professionals on social media. You never know where your next opportunity may come from, and building a strong net-work is one of the best ways to ensure that you're ready for whatever the future holds.
Remember this: Relationships will always be valuable in this industry, no matter how much technology is created. Good luck!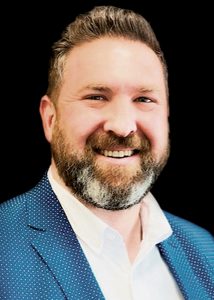 The author
Heath Shearon is a second-generation insurance professional, creator of the Insurance Town podcast, and sales coach. He built a successful agency before transitioning to the carrier side. Working with hundreds of insurance agencies through-out his career as a marketing representative and consultant, he has a natural ability to network and build relationships. He has parlayed that into a career in consulting with agencies all over the country in the areas of sales strategies, niche marketing, relationship building, cross-selling, customer retention, mergers and acquisitions developing culture, and brand-building—amongst other things. Heath is a strong believer of the account-ability factor in coaching and enjoys working with agencies both large and small. Over the past two years, he has spent time working on his own brand, Insurance Town, and working with agencies to help them develop their own branding and culture for their businesses. Through accountability and consulting, he has helped agencies grow and achieve their goals, oftentimes exceeding them.