NEW WAYS TO GIVE BACK
 Independent agents are finding creative ways to engage employees and increase their levels of philanthropic giving
By Bill Ross
---
If there's one silver lining that emerged from the darkest days of the COVID-19 pandemic, it's the way that people have come together to support those who face the greatest needs.
Early on in the pandemic, the Insurance Industry Charitable Foundation (IICF) worked with the Insurance In-formation Institute and estimated that Us. insurers and charitable foundations donated about $280 million in immediate response to the pandemic, with another $150 million contributed internationally by mid-2020. The IICF's Children's Relief Fund alone raised a record $1.6 million and provided more than 2.6 million meals to food-insecure children and families.
While we're still crunching numbers in 2022, we know anecdotally that the level of philanthropic giving remains incredibly high. Yet, while many people associate charitable giving with our industry's largest carriers and brokers, the reality is that philanthropy is well within reach for independent agents, too.
The push toward "purposeful giving"
Within independent agencies, employees are driving heightened interest in philanthropy today. This includes not just younger generations—such as Gen Z and millennials—but people of all ages who share a desire to work for purpose-driven companies. They see the inherent value in supporting the needs of other people in the cities and towns where they live and work, and they expect their employers to match their passion by giving back to those communities in meaningful ways.
Purposeful giving isn't just the right thing to do. It's a sound business strategy. By giving employees opportunities to volunteer and donate, independent agency owners can boost their retention and recruitment strategies during one of the most competitive talent markets in recent memory. Doing so will also increase employee morale, especially if agency leaders show a strong commitment to charitable giving by donating to causes that matter most to their employees.

Purposeful giving isn't just the right thing to do. It's a sound business strategy.
Independent agents who grow their philanthropic profiles stand to reap multiple other business benefits, too. They will increase their presence within their communities, something that could lead to new business opportunities. They will enhance the overall reputation of their agency. They will strengthen their relationships with existing clients and stakeholders who align with the causes they support. And they will further our industry's well-rooted reputation of being there in times of need and promoting social good.
Growing a philanthropic profile
With community needs growing every day in the wake of ongoing economic pressures, both agencies and individual employees now have more opportunities than ever to engage in purposeful giving and make a positive impact. If your independent agency is planning to increase its giving and volunteerism heading into 2023, consider these four important steps:
1. Support what matters. If you're unsure of the area where your giving can make the biggest impact, ask for input from your partners, clients, employees and community members. This step will help your agency establish who and what you value, which will set the foundation for ongoing success for your philanthropic efforts.
2. Be active. Being present within your community will help to build your reputation as an agency that gives back through charitable giving, leadership and volunteerism. Independent agents should fully engage with people and organizations they want to reach through volunteerism.
3. Spread the word. We live in an age of transparency and authenticity. That means your clients and community members will expect to see evidence of your charitable giving efforts. Use your agency's social media channels to show videos and photos of your employees' community involvement and interaction. In addition, share the stories of your agency's charitable work within your business networks and associations, and encourage other people and companies to partner with you so you can expand your philanthropic efforts even further.
4. Help employees engage in "intelligent business networking." This happens when agencies connect their employees with the organizations and causes that matter most to them personally. Intelligent business net-working sparks personal development and growth, creating a community of like-minded, socially conscious industry professionals who feel empowered to give back and advance their careers simultaneously.
Making the biggest impact
How do you find the people and organizations within your community that will benefit the most from your charitable giving and volunteerism? Your local Chamber of Commerce is a great place to start. Network with nonprofit Chamber members, ask them about their biggest needs, and consider how your agency and your employees can best meet them.
In addition, local schools and youth sports teams always need support. By giving to them, you'll expand your reach as an agent outside of your sphere, show your commitment to area families and spread the word about the good your agency is doing.
The IICF also offers many ways for independent agents and their employees to give back and volunteer both in-person and virtually.
In the past, only organizations could participate in IICF programs. But now, individual employees, including independent agents and their teams, can get access to all that IICF has to offer through our new Global Membership Program, which was launched in June and has been growing steadily ever since.
Program members get access to exclusive volunteer opportunities, allowing them to easily interact with nonprofit organizations that matter the most to them, and serve alongside insurance professionals from carriers, brokers and other related businesses. Members can also advance their professional development through unique educational content, including monthly coffee talks and an insight series hosted by leaders in insurance.
While the program is designed to support individual employees, we've seen senior leaders within independent agencies sponsor the membership dues for a select group of their junior staff members. Doing so gives junior-level employees the ability to give back charitably and make valuable industry connections. This exemplifies intelligent business networking and can bring new business and other benefits to independent agencies. It also allows independent agents to engage in philanthropy cost-effectively, without having to start their own program.
As needs within our communities continue to grow, so too does our employees' desire to give back. Independent agents can take a leading role by finding new and creative ways to engage their employees in purposeful giving and creating intelligent net-working opportunities that enhance communities and drive business results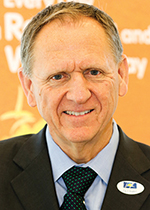 The author
Bill Ross is the chief executive officer of the Insurance Industry Charitable Foundation, responsible for the organization's overall operation and strategic direction. He's held that role since September 2004.Prior to joining IICF, he spent31 years with the Walt Disney Company. He can be reached at bross@iicf.com.