WE'VE GOT YOUR BACK
AGENCY PARTNERS
WE'VE GOT YOUR BACK
GuideOne rebrands, recruits independent agents
If the name GuideOne isn't familiar to you now, it will be soon. Established in 1947 as Preferred Mutual Insurance Company, the insurer has launched a virtual blizzard of new initiatives, the majority of which are focused on establishing strong relationships with independent agents.
Rated A- by A.M. Best, GuideOne is active in all 50 states and is represented by about 2,000 independent agents. Committed to social responsibility, the company provides property, liability, and workers compensation products and services to its niche markets: churches, educational institutions, senior living care centers, and nonprofit organizations.

This past May, after spending a year listening to agents, insureds, and carrier representatives, GuideOne announced a brand pivot featuring a new logo, and expressed its intention to expand its product lines by the end of the year. The company also entered into a partnership with Roost®, which provides home telematics, and four agents are participating in a pilot project to test the Roost Smart Water Leak and Freeze Detector with selected church clients across the country.
Speaking of agents, last year GuideOne made a significant transition in its distribution model to an all-independent agency force. In fact, a key objective of the company's brand pivot is to "highlight investments in people, products, and technology, reinforcing the commitment to empowering agents to strengthen and protect their communities."
Also, in 2017, GuideOne announced the appointment of Jessica Clark as chief executive officer. Since 2009 she had been with State Auto Insurance Companies, serving most recently as chief operating officer and chief financial officer of the group's specialty subsidiary.
Commenting on GuideOne's branding redo and other new initiatives, Clark said: "Welcome to the new GuideOne. We don't sit back and wait for positive change to happen; we make it possible."
To gain a deeper understanding of the changes under way at GuideOne, we spoke with key executives who have keen insight into the factors that are driving the company's new direction. We also spoke with two agents who are participating in the Roost pilot program and have high praise for the device's performance in churches they insure.
Declaration of independents
"Since late 2017, we have distributed our products exclusively through the independent agency system across the country," says Paul Czerniak, vice president of sales and marketing for GuideOne's eastern region. "For many years we had a dual distribution model in which we worked with both career agents and independent agents. When we made the transition to become entirely independent agent focused, we offered our career agents the opportunity to become independent, and we also began to recruit additional independent agents."
GuideOne places a high value on connecting with and supporting its agency force. "We strive to develop relationships with agents who are as passionate as we are about the niches we serve. Our sales directors cultivate and manage those and also help to establish relationships with our dedicated teams of niche underwriters. Every agency we work with is assigned one or two underwriters per niche. That gives both our underwriters and our agencies the opportunity to build solid connections," Czerniak says.
"We've invested heavily in new policy administration technology that will help us create a competitive edge in the marketplace," he continues. "It's called PolicyCenter, and we've launched it in a number of states and will continue to integrate it into all the states in the near future. The new technology allows for more streamlined interaction between agents and underwriters, and it also allows policy changes and endorsements to be made in real time."
GuideOne, Czerniak explains, works hard to equip agents with tools that will help them at the point of sale and beyond. "We want to be known as a thought leader in our space, whether by providing agent resources or protecting our insured schools and churches from armed intruders or distributing our HR Guide to help our nonprofits manage those issues," he asserts. "We're constantly thinking about the needs of the organizations we insure."
Another resource GuideOne offers is SafeChurch, a web-based risk management portal that provides in-depth information and action items that help churches enhance their safety measures.
In 1994, GuideOne formed a construction company, now known as GC3, that rebuilds and repairs properties that have been damaged by an insured peril. "This is just one example of the ways in which we try to go above and beyond in serving our insureds," Czerniak says.
Although the company is licensed in all 50 states, it's represented by some 2,000 independent agents, and has about 50,000 policyholders. "We're a regional-sized carrier that does business nationally," Czerniak observes. "We believe that dual status gives us some significant advantages in terms of flexibility and responsiveness."
Operationally, GuideOne has two sales regions, with the Mississippi River being the dividing line, and four underwriting regions. Within this structure, Czerniak explains, "Our underwriters are able to become familiar with the geography and demographics of their region and to form productive relationships with agents."
Historically, Czerniak says, all underwriting was done at the home office in West Des Moines. More recently, he notes, "We've begun to hire remote underwriters who work out of their homes. We're excited about this initiative because it allows us to place underwriters closer to our ultimate customers, who are our agents."
GuideOne is implementing plans to expand its product offerings by introducing new coverages and enhancements for its existing niche markets and also by moving into additional areas. A businessowners policy will be launched late this year, Czerniak says, and the company has begun to write program business through several MGUs. That business can range from CAT wind to environmental risks.
Fall in love with the problem
Technology clearly plays a major role in the array of new initiatives GuideOne is pursuing. Michelle Glasl, who joined the company in 2017, serves as senior vice president of strategic initiatives and chief information officer. Like the new CEO, Jessica Clark, Glasl previously was with State Auto Insurance Companies; she was vice president of strategic initiatives and director of technology.
As GuideOne moves through a technological transformation, Glasl is squarely at the helm, facilitating the process and supporting the employees who are responsible for implementing the changes. Much as the company's management listens to its employees, agents, and insureds, Glasl encourages outside the box thinking and fresh perspectives on tough challenges. To provide a "laboratory" for employees to test their ideas, she created the GuideOne Garage, which occupies a designated room in the home office. "Like with Apple, Amazon, and Harley-Davidson, all good things start in the garage," she says with a laugh.
Turning a popular adage on its head, she explains, "We say in the Garage: 'Focus on the problem, not the solution.'" Glasl's advice to employees is: "Fall in love with the problem, and then we'll find the solution."
Currently the Garage is involved in a pilot project with a drone company to explore the feasibility of gatheringdata about properties via drone. Adds Glasl, "We're also doing work on JetBots and developing a mobile app for loss control specialists."
When it comes to new ideas, she says, "Everything looks good at first, and then you have to test it. As a small mutual, we're looking for concepts we can operationalize."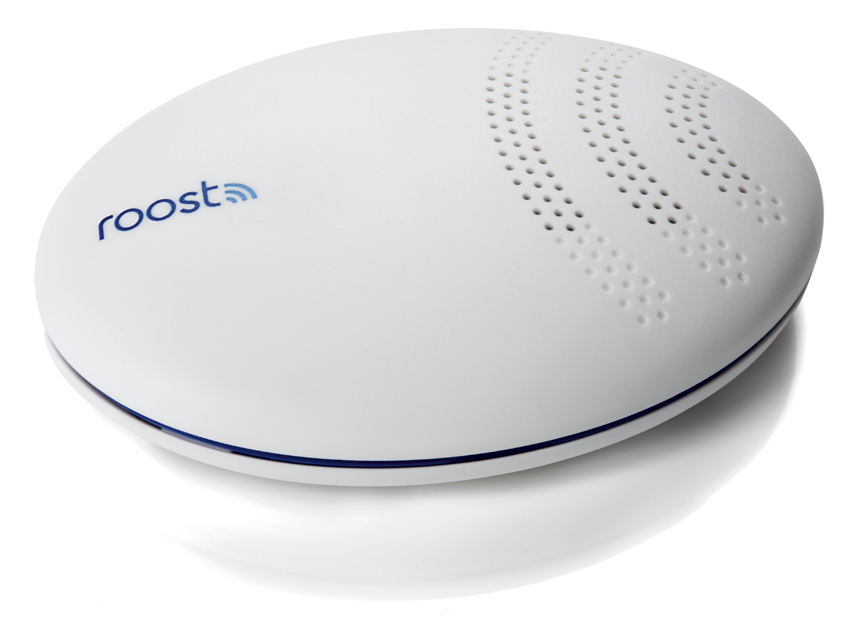 Roost pilot program
As noted earlier, four GuideOne agents are participating in a pilot program in partnership with Roost to test its device that is designed to detect water leaks as well as humidity and freezing temperatures. Under the pilot, which launched in March of this year, selected church clients of the agents are using free Roost Smart Water Leak and Freeze Detectors. When the device detects a leak or other problematic situation, it delivers smartphone alerts via a mobile app to help minimize water damage and loss.
Some 4,000 devices have been placed in churches around the country. GuideOne views installation of the devices as an important added value that provides peace of mind to the insured. It believes the pilot program gives agents a service-based reason to connect with clients, which supports acquisition and retention. Furthermore, use of the sensor can benefit the insured, agent, and company by allowing the insured to deal with a situation promptly, limit damage, and reduce the cost of a loss.
The two agents with whom we spoke are enthusiastic about the Roost device and point to its value in protecting their church clients' property.
Robert Wise is executive vice president of Emery & Webb Insurance., an independent agency based in Fishkill, New York, with offices in 10 other northeastern cities. A fifth-generation family-owned agency that was established in 1886, the firm writes personal and commercial lines with niche programs for churches and nonprofits. It has represented GuideOne since 2014, having competed with the insurer for church business for several years.
"We believe there are great things to be done for churches as Emery & Webb and GuideOne have teamed up," Wise declares. "In our first meeting with GuideOne I took a picture of a banner in their home office. The banner states: 'We have the privilege of advancing the ministries and causes of our customers through our work …' This perfectly matches the philosophy of Emery & Webb. Understanding churches and their ministry needs is important to us and important to GuideOne."
Wise has high praise for GuideOne's approach to claims handling. "Marketing and sales are easy; promises are no big deal when you don't have to deliver on them," he remarks. "We have worked with GuideOne on some large claims that proved their expertise. Claims can go sideways, and emotions can get derailed. GuideOne works with us and our clients to get churches back into operation so they can continue to minister to their communities. The real test of an insurer is how it handles claims, especially large ones."
Wise appreciates GuideOne's efforts to support churches in their risk management efforts. "GuideOne has created an extensive library of risk management materials within its SafeChurch website," he notes. "The materials and training help churches identify risk as well as providing templates for improving processes."
Emery & Webb's management was pleased to be invited to participate in the Roost pilot program, Wise comments. "We have been able to get this device installed in 102 churches so far and have plans to get it installed in 100 more by the end of the year. Our churches have been thrilled with the offer, and it has opened the door for important conversations about where the church may be susceptible to loss."
So far, Wise reports, no sensors in the agency's participating churches have been activated. "To date, we have not had any sensors triggered. We are going to take that as a good sign. With hurricane season in full swing, our guess is that Roost is going to prove its worth soon."
Cutting edge offerings
For Jim Ketring, president and chief executive officer of Ministry Advantage Insurance Services in Escondido, California, GuideOne is as close as it comes to being the perfect partner. Since its inception, the agency has represented GuideOne, which Ketring says "offers a high level of expertise in houses of faith and nonprofit entities that fits us like a glove. A major benefit is the name recognition. GuideOne has a great reputation in the ministry and nonprofit markets, and that opens doors."
In addition to expertise and name recognition, Ketring notes, the insurer offers an impressive suite of products. "Not only does GuideOne offer a cutting edge product; they back it up with claims, risk management, and loss control services that are second to none."
Like fellow-agent Wise, Ketring is enthusiastic about his agency's participation in the Roost pilot program. "The product is great," he declares. "We reached out to our church clients, and those who took advantage of the opportunity could see the value. This product is a major loss control tool that every organization should install. Ask any broker to review his or her loss history, and you'll see that water claims are a significant factor. I like the Roost product so much that I have it in my home."
By Elisabeth Boone, CPCU
For more information:
GuideOne Insurance
www.guideone.com
Roost
www.getroost.com