Thirtieth annual Rough Notes Agency of the Year candidates
Who will be the 2019 Agency of the Year?
One of the agencies featured in a Rough Notes cover story during 2018 will be chosen Agency of the Year. The winner will be selected by votes of the previous 29 years' Rough Notes cover agents (from the years 1989-2017).
The principals of the winning firm will be presented with the award at a dinner held in their honor this spring.
The nominees for this year's award are described on the following pages. The winning agency will be announced in the February 2019 issue of Rough Notes, and a full story on the winner will appear in a future issue.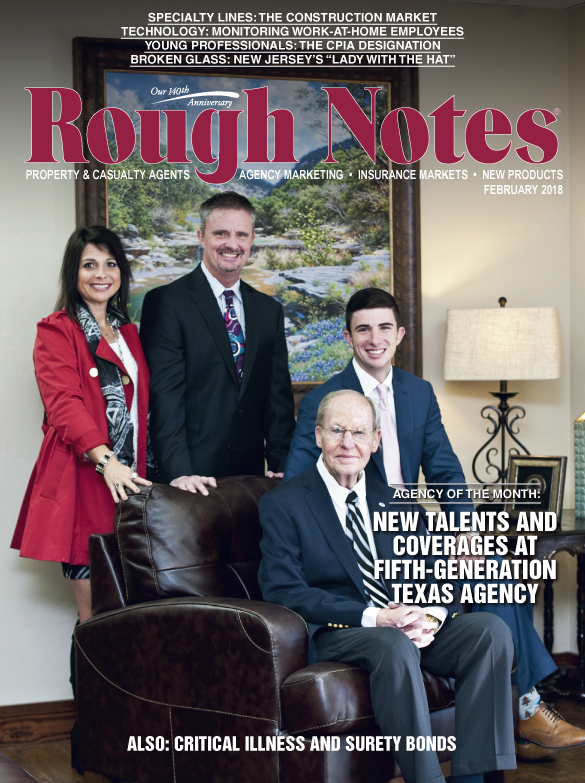 February
Garrett Insurance Agency, Inc.
Kerrville, Texas
"Insurance will be the next big industry." That's what W. G. Garrett Jr. and L. D. Garrett heard when they mustered out of World War I. They believed it and, in 1918, opened Garrett Insurance, running it as a part-time endeavor while maintaining their day jobs.
A half century later, nephew Bob Schmerbeck III signed on to help fuel growth. "When I joined the agency," Bob says, "Kerrville was a small town. We knew everybody and everybody knew us. They knew that Dad and I were men of integrity who could be trusted to provide the right coverage at a fair price."
In the mid-1970s, Bob and his dad bought the firm and continued to focus on meeting the growing community's diverse needs—for insurance and more. For example, Bob and his wife, Shirley, chaired a local hospital fundraising committee that raised $16 million.
The agency's Fredericksburg office has a niche in agriculture, which Bob's grandson, Caleb, is interested in further developing. The Conroe office has a strong propane niche. "We are trying to create an agency where anyone can come in and get the coverage they need and the services to support them," explains Bob's son, Stephen, who bought the agency in 2010.
Technology plays an important role, Bob observes, making it "easier for clients to communicate with us however they prefer. Our agency portal, email and texting are very popular … but so are face-to-face meetings—and we often meet with clients after hours and on weekends," to meet customer needs.
Stephen adds, "Coverage is more important than commission. We want long-term relationships with our clients … ."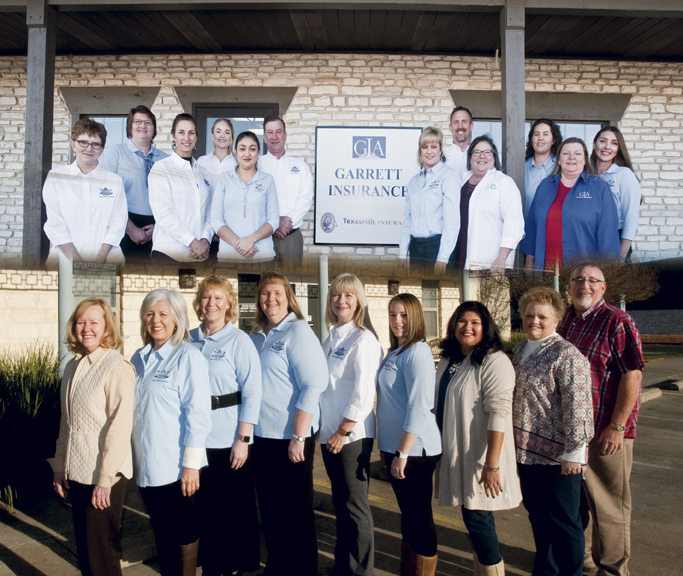 "Coverage is more important than commission. We want long-term relationships with our clients … ."
—Stephen Schmerbeck
President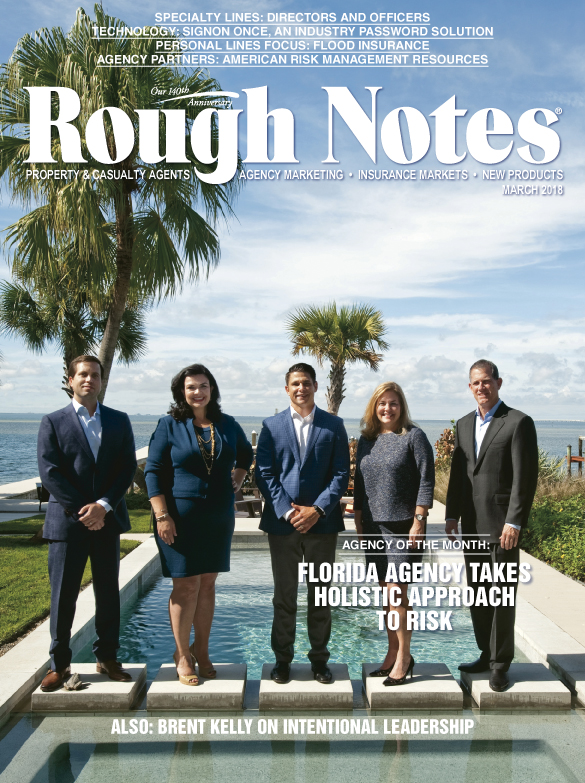 March
Baldwin Krystyn Sherman Partners
Tampa, Florida
What happens when experienced insurance people have a vision to provide holistic risk management services and create a strong culture? You get an agency like Tampa, Florida's, Baldwin Krystyn Sherman Partners (BKS) that has reached annual revenues of nearly $24 million in a little more than a decade of operation.
As the agency began to grow, its founders created its Azimuth, the company's cultural codification. It delineates its core principles and the promises made to its clients, colleagues (what the agency calls its employees), insurance company partners and the community.
"The Azimuth serves to guide our firm's culture, which shines through in our involvement in the community … and the way we serve our clients," says Founding Partner Laura Sherman.
Colleagues serve on over 20 charitable boards throughout the year and are given 24 hours of paid leave each for volunteer work.
The company's success and culture have allowed it to attract and keep colleagues and clients. "People want to be part of a firm that … is known as a great employer, having received numerous awards for being a great place to work," says Partner Trevor Baldwin. "Our people are excited to be here. … The collaborative environment is terrific. As a result, the teamwork is awesome."
"I am proud that the BKS culture and the growth we've achieved keep us on the vanguard," Sherman adds. "This lets us anticipate change and continue to provide peace of mind to our clients, regardless of what happens in the changing risk environment."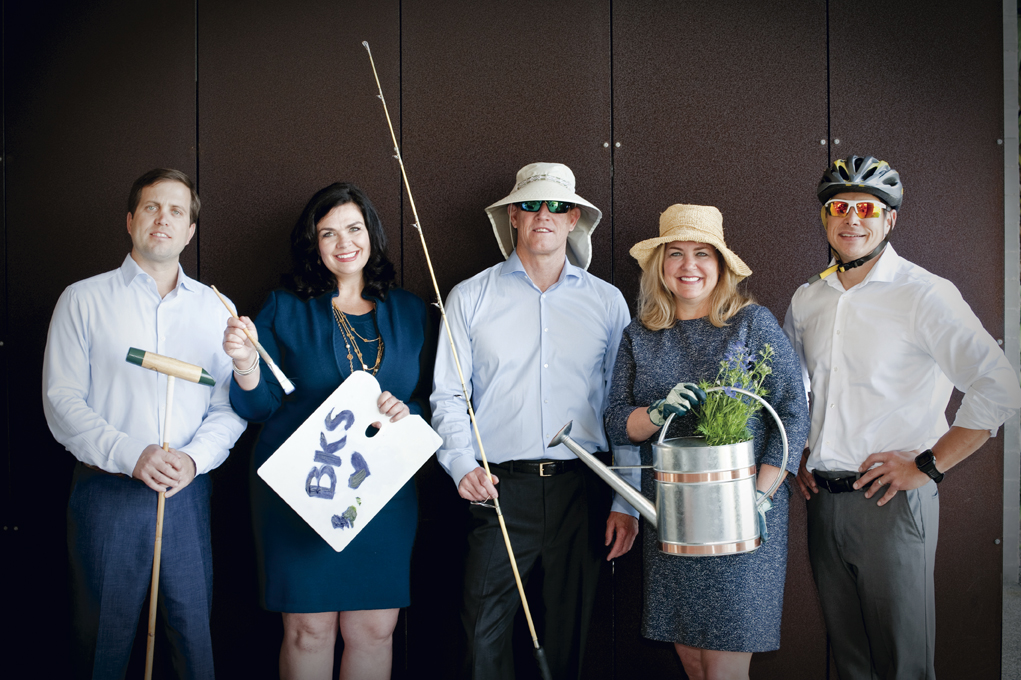 "Right from the start, our risk mapping proved to be a key differentiator. That helped us develop a tremendous following and it accounts for the high client retention that we enjoy."
—Lowry Baldwin
Founding Partner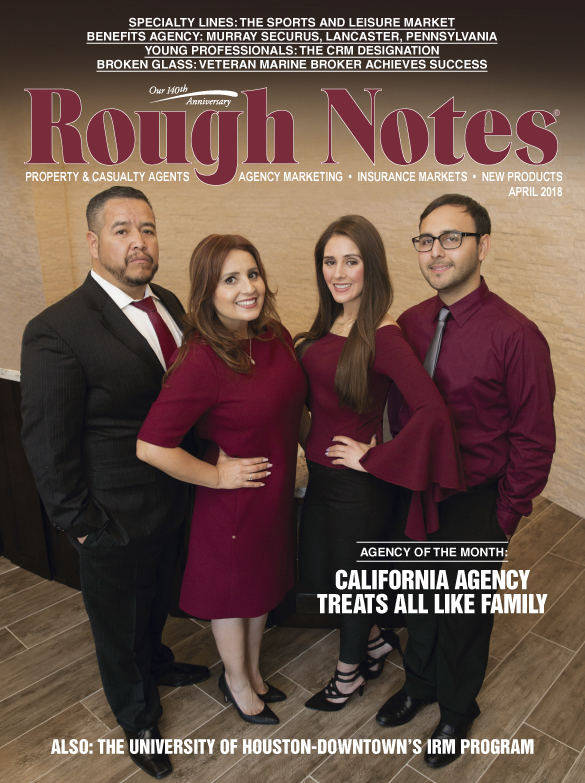 April
AA Lares Insurance Services
Orange, California
Acquiring clients by approaching people in line at a  theater across the street from a newly opened insurance agency is not the most orthodox way of starting a business. But in then-29-year-old Patty Lares's case, that's exactly how AA Lares Insurance Services in Orange, California, came into being. Cagily, she led those theater visitors to think she was thriving by setting up four desks with computers atop them—although for the first eight months she had no employees.
The new clients, as well as the eventual employees, have become a "family" by dint of Patty's welcoming and loving personality. The nine employees at the agency's two locations subscribe to her goal of establishing personal relationships with the firm's clients. Revenue of $1.4 million speaks to the success of that goal. Employee Adriana Torres says: "Some of our team members are actual relatives, and the rest of the team have been with us for so long they feel like family members."
Community involvement is the natural outgrowth of the agency's work culture. Employees donate time as well as money and often are joined by grateful clients. "We leave a little time to sell insurance in between our commitments to helping others," Patty quips. Every two months the firm takes on a different charity. For example, during January and February (heart month), AA Lares donates $10 to the local American Heart Association for every referral, and employees join in the Orange County Heart Walk.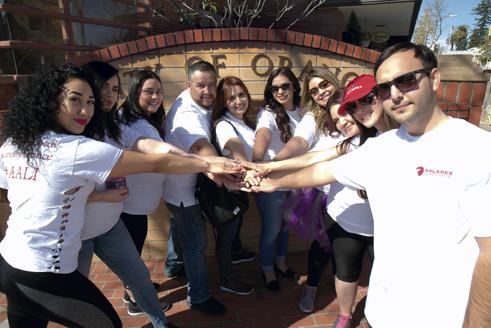 "Our love for others is reflected in the moments when team members go the extra mile to help our clients. We truly see our clients as family; we serve and protect them as if they were our own blood relatives."
—Krystal Lares
Protection Coach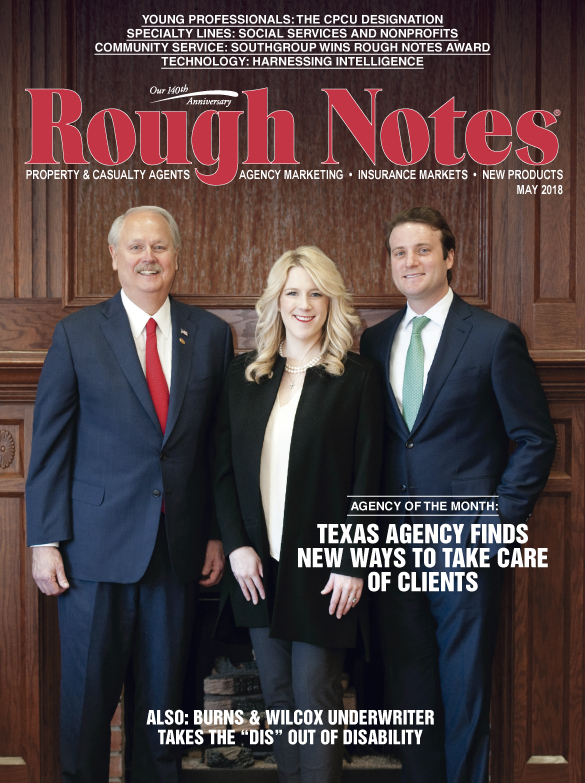 May
BKCW Insurance, Risk Management & Benefits
Killeen, Texas
Having progressed from its late '50s origins, to a sole proprietorship earning about $500,000 in premium volume, and then to a firm with $10 million in revenue and a total of 45 employees in three locations, BKCW Insurance Chairman Bill Kliewer and his team decided it was time to "find a way to take care of clients differently."
Through the years, BKCW had bounced between emphases on life and property/casualty business. The new program blends all of these lines, plus expertise in employee benefits, into a holistic approach to risk management.
As with many endeavors, the prep time takes longer than the actual sale. BKCW assesses where the client is and what it should put into place risk management-wise so that risks can be eliminated and coverage gaps closed.
Bill points out, "We often work with a client or prospect for eight or nine months before we institute a comprehensive risk management service plan." This consultative process has resulted in greater retention and improved client relationships.
It has also benefited the firm's employees. Vice President and Partner Meredith Kliewer Spears says, "They like this enhanced relationship, where clients come to us not just to report a claim, but to seek our expertise or just to talk about some work we are doing in the community. You can feel the energy inside the agency." That energy also comes from employee opportunities for flextime, off-site work, and time off for community service. (Those employees voted BKCW as the best agency to work for in the Southwest).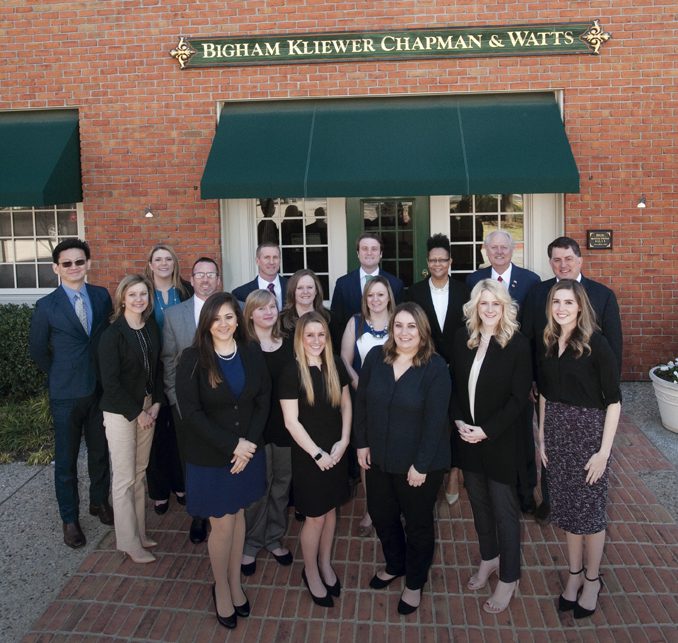 "Most agencies worked on price and, while that is important, we wanted to focus on value-added services that would help clients achieve their risk management goals and reduce their overall cost of risk … ."
—Bill Kliewer
Chairman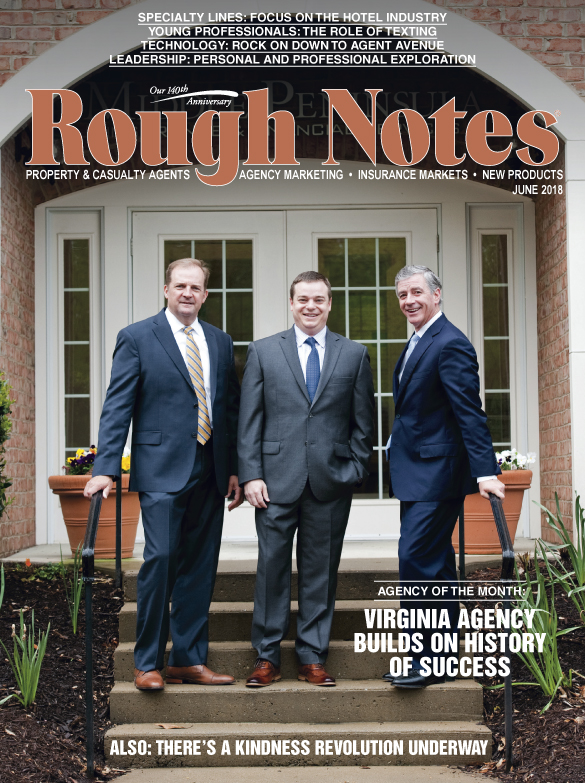 June
Middle Peninsula Insurance & Financial Services
Williamsburg, Virginia
Running a business in the historic Williamsburg area  carries a unique challenge. The philanthropic example of Williamsburg itself and the American principles it reflects have served as Middle Peninsula Insurance's inspiration. Since its founding as a small operation in Deltaville, with one office and four employees, Mid Pen has grown to three offices with 21 employees that now serve the entire state of Virginia.
Just as Williamsburg is philanthropic in nature, so "giving back is part of our fabric," says President Joe Harrow, who bought from his family what had started out as a humble mom-and-pop agency. Adds Vice President of Sales Matt Slye, "Our main focus has always been serving our community; it sets us apart from the bigger companies we compete against."
This philosophy, coupled with a customer-first culture, is reflected in the three general rules under which the agency operates: provide world-class, old-school service with a personal touch; manage its offices in the most efficient manner possible by updating technology and improving workflows; and make Mid Pen a great place to work in order to attract highly talented people. The team constantly assesses its practices and tweaks them to evolve effectively. In addition, the Mid Pen team makes sure its carriers are committed to the region and reflect the agency's customer-first approach.
A strong sales culture based on constant prospecting has resulted in new business growth and high retention rates. Producers are encouraged to work closely with the account management team and clients during the renewal process.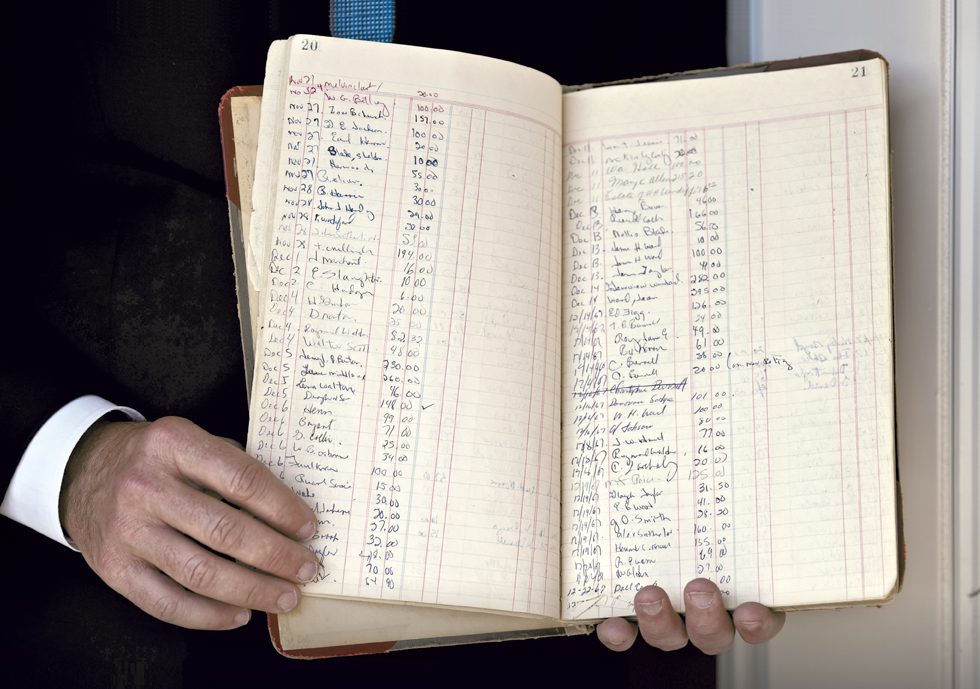 "We value our customers and try to treat them the same way that we would want to be treated."
—Steve Rice
Chief Operating Officer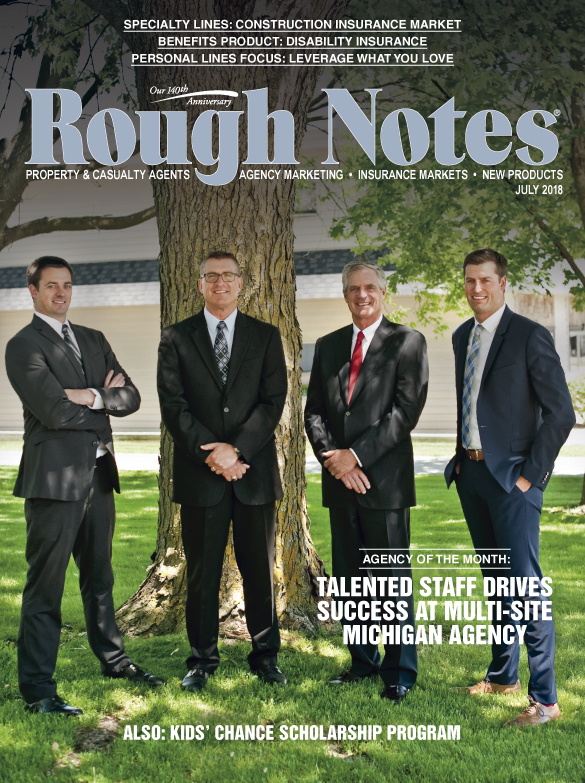 July
Diebold Insurance Agency
West Branch, Michigan
After Kevin Elliott purchased Diebold Insurance, his  search for advice to develop the agency led him to Roger Sitkins, who was starting his career as an agency consultant. And a beautiful friendship was formed. "(With) Roger's message … you are serving client needs all year long rather than getting involved only 90 days prior to renewal," says Partner and Commercial Producer John Mrsan.
"We use Roger as our sales training resource, helping the new producers develop an approach that centers on listening to the prospect and developing a plan that will help them reduce their overall cost of risk," adds Vice President and Sales Manager Dan Elliott.
The results of this approach speak for themselves, as the agency's three offices in Michigan account for nearly $5 million in revenue. While the agency is 62% commercial lines, the early days of focusing on personal lines and small commercial proved important for its growth.
"Those personal lines clients remain an important part of our agency," says Partner Charlie Elliott. "We use a similar approach with them as with our commercial clients, focusing on risk mitigation and coverage concerns." The agency also offers health benefits.
Like its relationship with Roger, Diebold Insurance desires lifelong bonds with its clients. "Production goals are important, but the leadership also respects the fact that building a long-term relationship can take time," says Mrsan. "They want clients for life rather than the quick hit, and that fits perfectly with my way of doing business."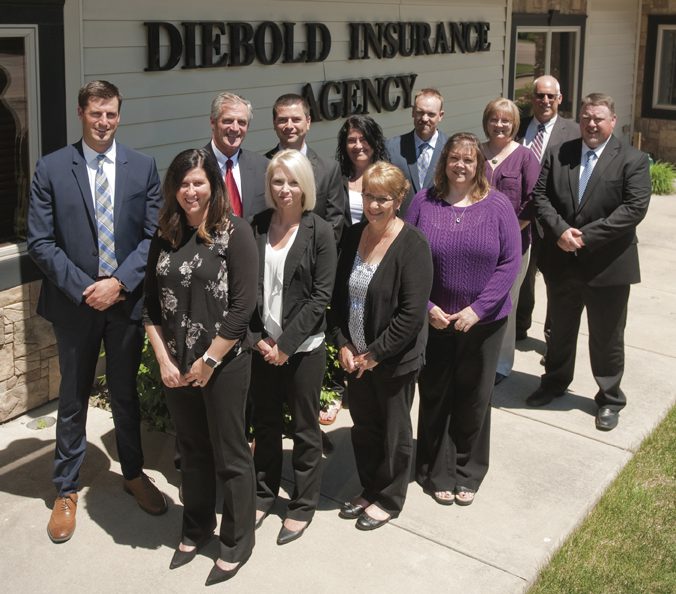 "We have tremendous loyalty from our customers, who also are our friends."
—Amy Langlois, API, AU
Operations Manager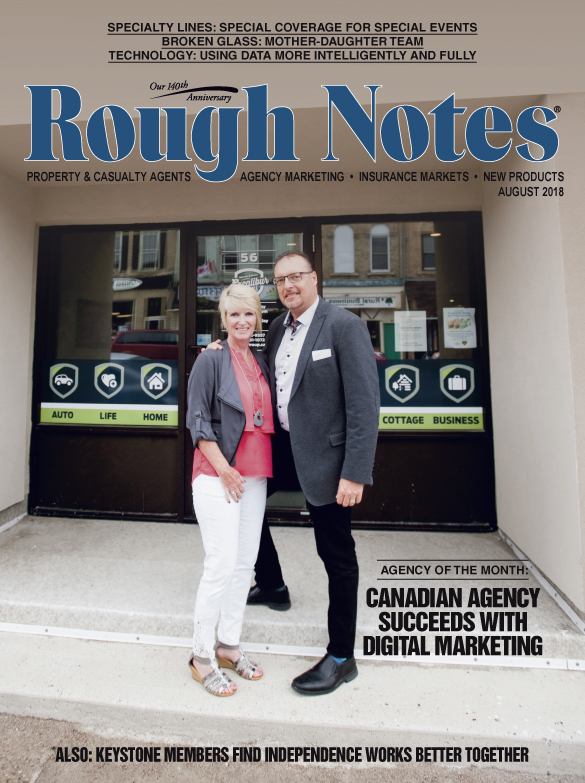 August
Excalibur Insurance Group
Clinton, Ontario, Canada
Jeff Roy used to hate insurance. During the 1990s, he'd go into his dad's agency to help with technology problems, but he was far more interested in other things. Then, he recalls, "a light went off. Technology could be the answer to making insurance less boring and more interesting to me and to clients."
After joining what then was P.A. Roy Insurance Agency, Jeff worked with agency leaders to, he says, "breathe life into insurance. We became laser focused … on finding ways to make insurance easier to understand, customize, compare and buy." Excalibur was born.
An important part of their success has been a focus on technology that helps people save time and money and reduce stress. Featured tech includes the ability to generate audio quotes with Google Home and Amazon Alexa; a range of digital marketing solutions; a 24/7 chatbot deployed on the agency website; and a "shock and awe" new business kit that's part of the agency's new client onboarding.
As important as technology is, employees are trained in ways to establish human-to-human contact with every client who interacts with the agency, digitally or in person "We do weekly training in how to talk to clients, emphasizing how imperative it is to contact potential clients immediately after we get a lead from any source," explains Operations Vice President Una Roy.
"We're in the experience business, not the insurance business," Jeff says. "The human-to-human connection is critical. Technology just makes that faster. We exist to champion people, to protect them with our insurance offerings, but also to help those who are less fortunate through our charitable work."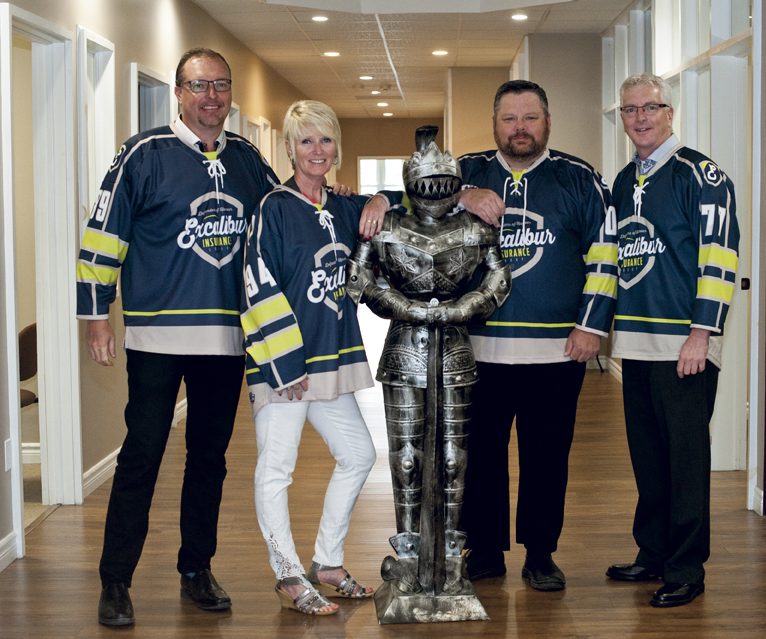 "We became laser focused, not on selling insurance but on finding ways to make insurance easier to understand, customize, compare and buy."
—Jeff Roy
President and CEO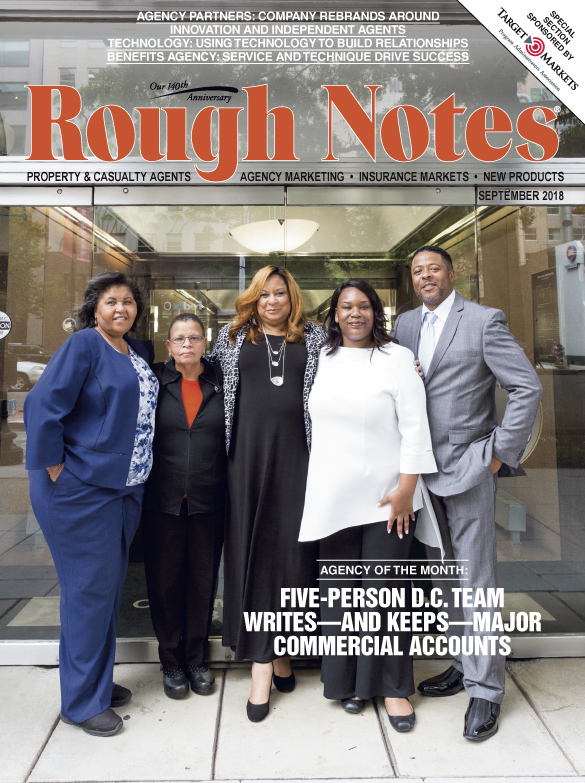 September
D.H. Lloyd & Associates
Washington, D.C.
Energy, enthusiasm, and experience … those three E's are what it's all about for D.H. Lloyd & Associates, a minority-owned commercial lines agency based in the nation's capital. Established in 1985 by Denise Lloyd, the firm lives the values embodied in its tagline: "Clients are our only asset."
Among those clients are George Washington University, the Congressional Black Caucus, the Industrial Bank of Washington, and Dynamic Concepts, Inc., all of which have been with the agency for more than 25 years. D.H. Lloyd is the only minority-owned agency to insure three major airports: Reagan National and Dulles in the D.C. area and Atlanta Hartsfield. In 2016, the firm became the first African American-owned agency to provide coverage for a national political convention when it served as the broker for the Democratic National Convention.
Hard as it may seem to believe, D.H. Lloyd handles all these accounts and many more with a staff of just five, having downsized from 14 employees in 2010. "I took a look at what we were doing for our clients and which of our employees were committed to our philosophy of innovation, client service, and integrity," Lloyd says. "The people who remain have what I call 'old school' values. When a client calls 10 minutes before closing, they take care of it that day. They don't say: 'We'll get back to you tomorrow.'"
To Lloyd, "Working in the insurance industry is a privilege. But many people, especially minorities, don't get involved in it because they have a misconception about the industry. It's really about helping people."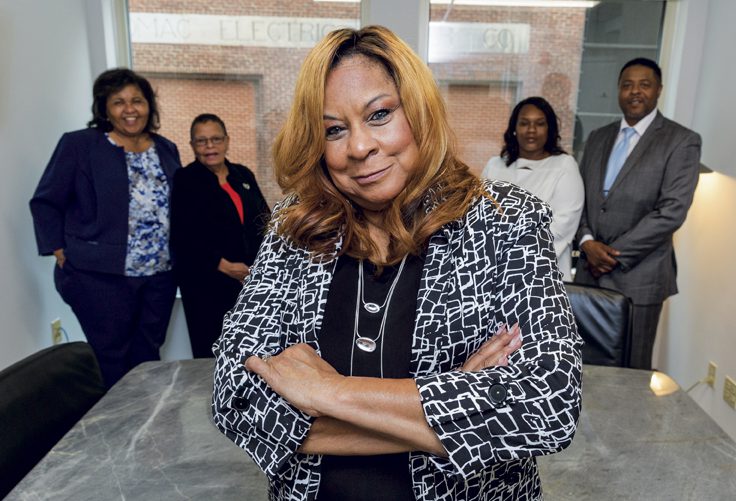 "Our commission never factors into a decision. We are convinced that, over the long term, we do better because of that philosophy."
—Denise Lloyd
President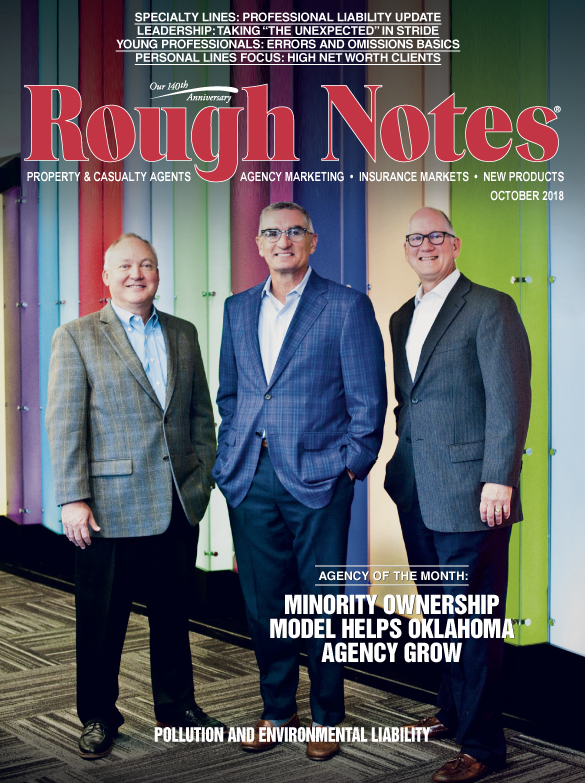 October
INSURICA
Oklahoma City, Oklahoma
A is for acquisition, and that is what's responsible for much of the impressive growth of INSURICA, whose headquarters are in Oklahoma City. With revenue of over $100 million and 600 employees in 30 offices, the agency also is growing organically as it pursues small commercial accounts throughout its operating territory.
In some circles, "acquisition" is regarded as a dirty word, with images of hostile takeovers, wholesale layoffs, and harsh new operational restrictions on the acquired firm. INSURICA breaks that mold by working to build partnerships with the agencies it acquires and allowing their owners to retain a minority interest of about 30%.
"We are big on local control," says John Hester, senior vice president of mergers and acquisitions. "They know their market better than we do, and we want them to lead from the sales standpoint."
Although the ink may have dried on an acquisition agreement, INSURICA is willing to alter the agreement to accommodate the seller. "We want our new partners to feel like they've been treated fairly, and if that means reworking an agreement, then we'll do it," Hester says.
Developing new talent is front and center at INSURICA. "We have invested an enormous amount of time and resources into our producer development program," says Mike Ross, president and chief executive officer. "Over the last six years we have hired 75 new producers, most without insurance experience."
What's next for INSURICA? INSURICA Next is an initiative the firm has launched to chart its future. Teams of non-management employees from several offices assess how the firm interacts with clients today and how it can improve the customer experience in the future.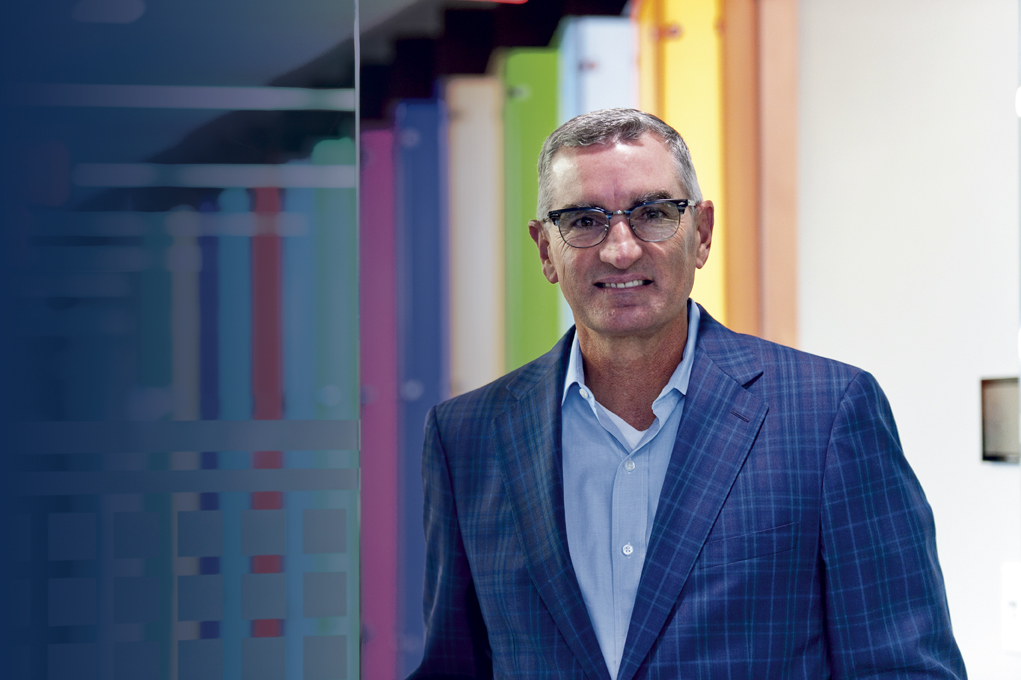 "Our goal has never been growth for growth's sake; each acquisition has been strategic in nature, bringing in people who fit with our culture and who offer new ideas."
—Mike Ross
President and Chief Executive Officer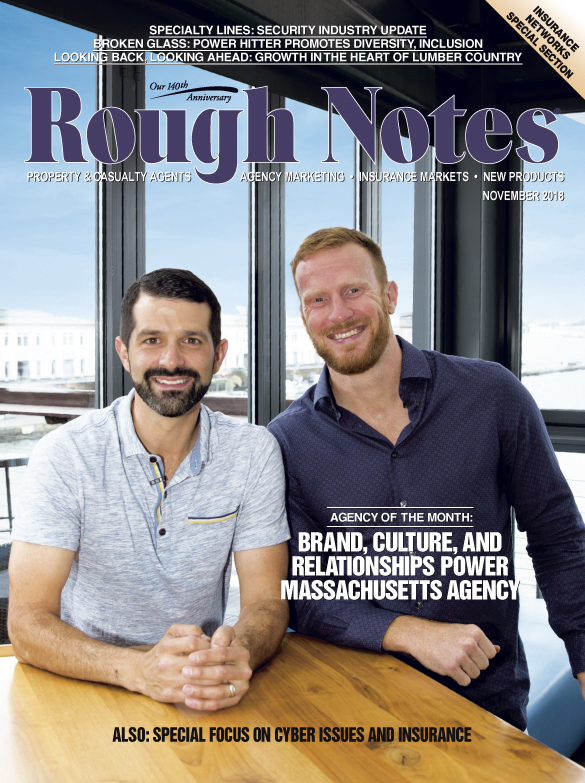 November
G&N Insurance
Southborough, Massachusetts
What happens when two young men who share a keen sense of the absurd team up to start an agency from scratch?
Plenty … and beneath that zany exterior lies a carefully crafted plan to build a brand and develop a robust book of business by targeting real estate owners and buyers in the agency's home state. Not surprisingly, founders Zack Gould and Matt Naimoli don't take the conventional route to success by pursuing a return on every dollar they invest, choosing instead to focus on promoting their brand to centers of influence and prospective clients.
Vlogs—blogs that contain video material—are a key component of G&N's branding campaign, which features professional presentations that highlight the partners' profiles and what they stand for.
"There's been a lot of talk about transparency in all industries," Gould says. "We are completely transparent. It's a very noisy world. People crave something real, and I think we can offer that." That assertion is supported by the numbers: The G&N vlogs attract between 10,000 and 20,000 viewers each week.
Other numbers are equally impressive, especially for a scratch agency that opened its doors just eight years ago. G&N insures more real estate transactions in Massachusetts than any other agency, represents more than 20 carriers, and boasts a retention rate of 95%.
What's more, the agency hit the big time when in 2017 and 2018 it was named one of the country's 5000 fastest growing companies by Inc. magazine. Not bad for a couple of guys who started off in 2010 with one carrier and no clients.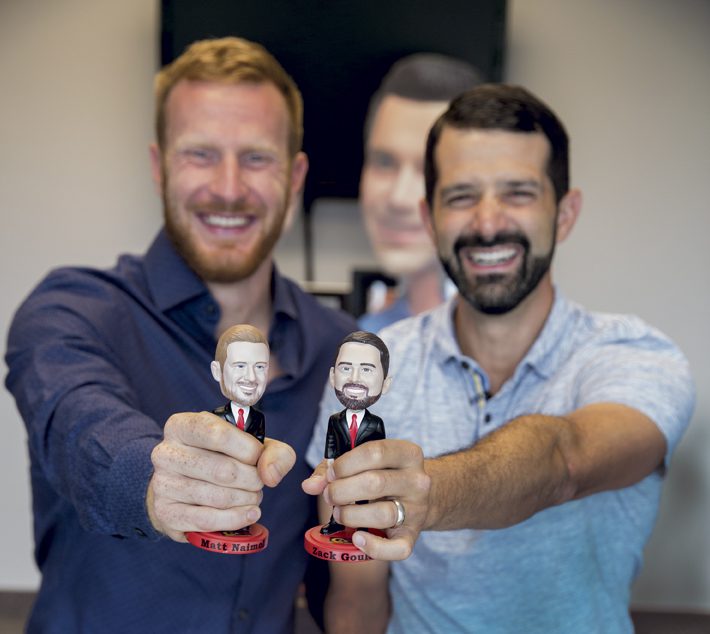 "Our brand is the best hedge against disruption, so our ability to articulate who we are allows us to differentiate from competition and strengthen our position as a niche expert."
—Matt Naimoli
Partner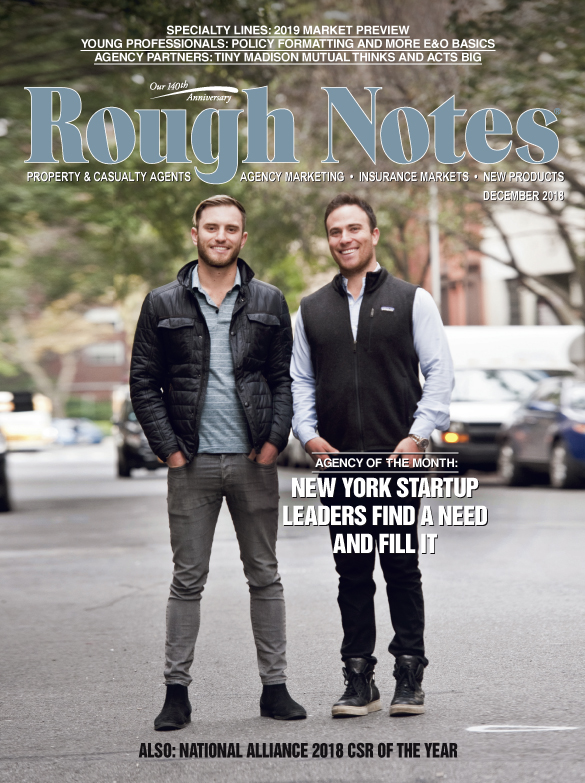 December
Founder Shield
New York, New York
What happens when a startup company has trouble getting D&O insurance? For Benji Markoff, CEO, and Carl Niedbala, COO, it meant starting their own insurance agency, New York City's Founder Shield. "We had a great idea that would fill a real need for startups and other businesses that relied on technology," says Niedbala.
That was "to create a seamless and intuitive insurance purchasing experience for business owners," adds Markoff.
Using the agency's three core values—transparency, efficiency and reliability—"we began to build our webpage content with simple, easy-to-understand information about what coverages were needed by startups and other businesses, as well as why those coverages are necessary," says Niedbala. "We included real-life examples that showed how important each coverage can be when claim situations arise."
After starting from scratch six years ago, today Founder Shield is a Lloyd's coverholder. "A number of markets have taken a chance on us; The Hartford was our first direct appointment," says Niedbala.
Meanwhile, Founder Shield is moving into the real estate and agriculture niches; its Igloo Health creates tech solutions for the purchase of health coverages for businesses.
On top of it all, the team enjoys its version of work/life balance. "We have work and life together," says Niedbala. "It's seamless. People bring their dogs here because their pets are an important part of their work and life. It's an open-office format. We have a lounge and shuffleboard table. People actually hang out here after work. It's all part of building a family."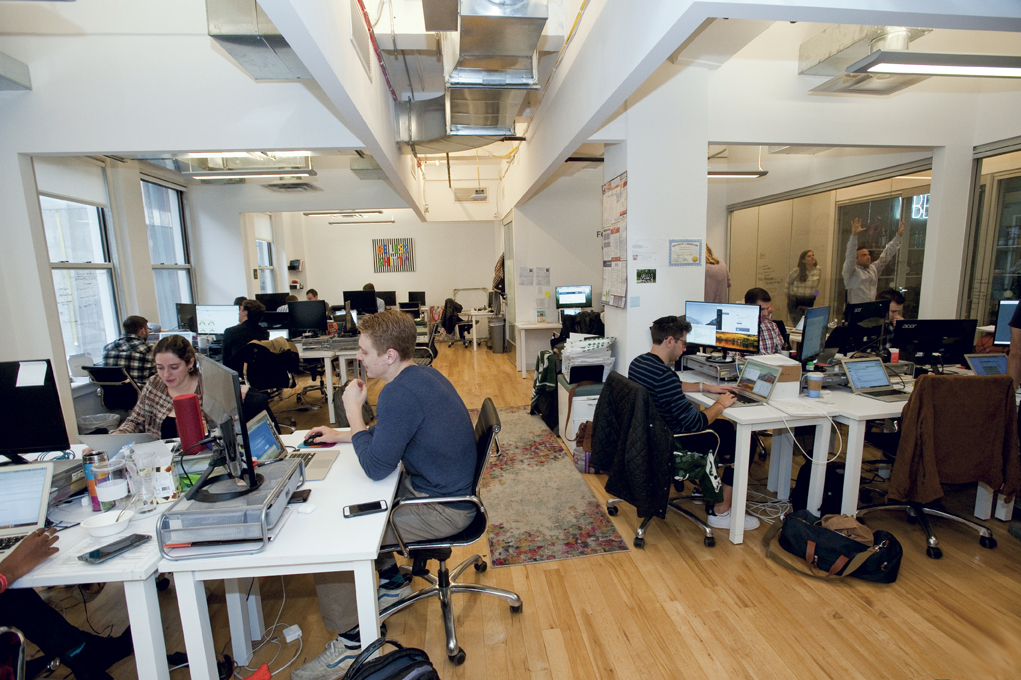 "My experience was months of back and forth, with no shortage of time-consuming and confusing paperwork, before we finally got our policy. There had to be a better way."
—Benji Markoff
CEO