CONNECTING THE DIGITAL
ROUNDTRIP OF INSURANCE
Each of four pillars has a different
business focus and benefits
By Anupam Gupta
---
While the global economy is riding through uncertain times, the future continues to look promising for the insurance industry as it has shown great resilience through the pandemic. Technology continues to shape our industry and act as an accelerator for new business and continued operational performance.
At the heart of the technology change is connectivity—the lifeblood of innovation. It connects organizations to their customers, insurers, and staff. Without it, the industry cannot move forward. Many of the challenges in the insurance industry are rooted in inefficient processes, unneeded paperwork, long cycle times, and difficulty sharing information. As a result, the roundtrip of insurance is often a disconnected and dissatisfying experience.
But it doesn't have to be that way. By making the roundtrip of insurance digital, independent agents can compete and win at previously unattainable speed. That means connecting all systems, people, and stages of the customer journey and policy lifecycle, including marketing and sales, risk data capture, search and classification, quote and bind, and servicing and renewals.
Every aspect of the insurance lifecycle must be connected to create a
seamless end-to-end experience for all stakeholders.
The four pillars
When connecting the roundtrip of insurance, there are four pillars, each with a distinct focus and benefits.
Connect—Investing in digital connectivity technology links every phase and stakeholder of the insurance lifecycle. This makes it easier for the entire team to do their jobs and easier for your clients, prospects and insurer partners to do business with you.
Grow—Investing in automated and connected front-office solutions and modern insured experiences helps you drive profitable growth. Having systems that "speak" to each other gives you a holistic view of the client and business, making it easy to capitalize on new opportunities that can impact your bottom line.
Operate—Investing in a modern platform, self-service portals and mobile apps helps your agency operate at its best. Offering clients the ability to self-serve and giving employees on-the-go access to the management system allows you to manage day-to-day tasks more efficiently and provide superior service.
Control—Investing in cyber security and digital payments helps keep your data safe and improves revenue operations. Don't risk losing clients to a data breach. Have peace of mind knowing that leading security capabilities protect your data.
Technology is key
Within each of the four pillars there is technology that agents should adopt to forge the digital roundtrip of insurance and create a superior experience for both staff and customers alike.
So, how can you connect your business?
Cloud-based management system. Your management system is the center of your agency operations and should have capabilities that allow each stakeholder within the business to work more efficiently and communicate better with carriers and policyholders. An open and scalable architecture supports acquisitions and gives you the choice to integrate with the partners you choose as part of your tech stack. You can boost your agency's value by having a flexible system that can grow and innovate alongside the business.
Ecosystem connectivity. Digital connectivity makes doing business easier across the entire insurance lifecycle, saving you time and creating more profitable premium opportunities. It connects you to the most carriers and markets for submissions, servicing, and policy intelligence without leaving your core management system. Investing in a connectivity superhighway eliminates the frustrating, time-consuming, expensive, and broken processes in insurance today and provides high-value experiences that help agencies find the best markets, effortlessly submit business, and quote and service clients faster.
Commercial lines application and submission management. Application and submission management platforms turn the traditionally cumbersome insurance application into a simple, TurboTax-like experience. Without leaving your daily workflow, you can search appetite and submit a risk directly to carriers' policy admin systems so they can begin the quoting process more quickly. Automating the commercial lines process end-to-end eliminates all the emails, multiple carrier portals, and paper exchanges that today make this process so time-consuming, expensive, and maddening for you and your customers.
Personal lines rating quoting. Personal lines rating applications let you quote auto and home personal lines policies directly within your daily workflow. They prefill existing client data into carriers' websites, so you no longer have to spend time rekeying data or worry about potential errors that come with it. Using a quoting solution enhances your agency's competitive value by delivering fast, accurate quotes that create new levels of employee efficiency and differentiate your customer service.
What can be used to grow your business?
One system for all lines of business. As you expand and diversify your business, you need a management system capable of running your P-C and benefits business. It also needs to be able to integrate with other benefits applications, so employees don't have to rekey data between systems. A single, unified platform eliminates the time and money spent managing multiple systems. It gives you one source of truth for the business, making it easy to identify opportunities to cross-sell and upsell.
Integrated marketing automation. Marketing automation software allows you to build and track marketing campaigns that deliver relevant and timely content to both P-C and benefits clients and prospects. Marketing automation has reporting features that can give you insights into campaign effectiveness and helps ensure that you comply with marketing laws. You can elevate your role as a trusted advisor through more targeted campaigns and content while growing your book of business.
Integrated sales automation. CRM and sales automation applications streamline your sales pipeline and help manage the complete customer lifecycle. They can integrate with the management system to allow your sales and service teams to work together efficiently in two separate but completely synced platforms. CRM and sales automation applications give each person in the agency a 360-degree customer view, helping you to grow your book of business and profits quickly.
Data analytics. Data analytics solutions act as your data scientist and help visualize raw data into actionable insights using interactive dashboards. They provide real-time data analysis on employee productivity, client relationships, market share and revenue, and carrier relationships empowering you to easily track and analyze valuable metrics that matter most to your business.
What can help operate your business?
Browser-based management system. Browser-native technology offers an easier, lower-cost and more mobile way for employees to work, and eliminates the need to manage individual software deployments. It delivers a simpler user experience—fewer clicks, fewer screens, and more native lookups and validation—making for more productive and happier staff. A browser-based management system eases the merger and acquisition (M&A) integration process and enhances security with single sign-on (SSO) and multi-factor authentication (MFA). Plus, it gets product updates in your hands ASAP so you can realize the value of your solution more quickly.
Self-service and mobile capabilities. Customers expect instant access to information anytime, any-where, at the touch of a button, and your staff members want flexibility and choice in how and where they work. Self-service technology like an agency-branded client portal and mobile app can provide enhanced service by giving consumers the freedom to access insurance information, documents, and online bill pay on demand. These simple and convenient customer interactions can strengthen the agency/customer relationship and save money by shifting transactions historically provided by agency employees to self-service. Meanwhile, agent mobile applications offer on-the-go access to client, policy, and sales information pulled directly from a management system. They also allow agents to proactively add prospects, create and manage activities, and automate sales operations. Mobile access to the management system empowers agency staff to work how they choose, while driving employee satisfaction, retention, and cost savings.
What can be used to control your business?
Digital payments. An integrated digital payments solution provides a safe, convenient way for policy-holders to pay their premiums online from any device and integrates seamlessly with your management system and self-service software. It offers flexible payment options, including ACH and credit and debit cards, allowing customers to pay how they choose. Automating the payment process from end to end reduces the effort, errors, and liability associated with agency bill pay.
Cybersecurity capabilities. Security and cyber risks are at an all-time high. Industry-leading cybersecurity capabilities help your agency avoid growing threats and protect your data from online criminals.
Customers expect instant access to information anytime,
anywhere, at the touch of a button … .
Creating more value for all
Connectivity is at the heart of a digital business, and technology is the key to completing the digital roundtrip of insurance—from marketing and sales, risk data capture, search and classification, and quote and bind, to servicing and renewals. Every aspect of the insurance lifecycle must be connected to create a seamless end-to-end experience for all stakeholders. By em-bracing technology and focusing on four key business areas—connecting, growing, operating, and controlling—agencies can make the digital roundtrip of insurance more valuable for every-one along the way.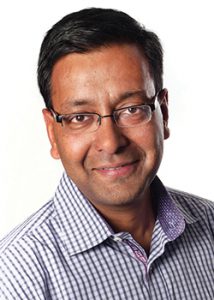 The author
Anupam Gupta, chief product officer, is responsible for Applied Systems' pro-duct vision and product management teams. He was formerly CPO at 4C Insights, a data and analytics SaaS provider to the AdTech/Mar Techindustries, which was acquired by Media ocean, a platform for omnichannel advertising with more than $200 billion in annualized media spend managed through its software, connecting the ecosystem of agencies, brands, media, technology, and data. As CPO of the combined companies, he spearheaded their product transformation to the cloud, adding new products fueled by data and intelligence infused in the core workflow. Previously, he led product organizations for several tech companies, including Vubiquity, Mixpo, and Microsoft, among others.