Professional Development
IN THE KNOW
CPCU Society podcast shares the knowledge and insights of industry leaders
By Christopher W. Cook
A community of insurance professionals who are working towards or have completed the CPCU® designation, the CPCU Society provides its members with opportunities to gain knowledge, enhance leadership skills, and engage with its more than 14,500 members. Established in 1944, the CPCU Society's members have more recently been "looking for additional ways to hear different perspectives on the insurance industry beyond the traditional conference and webinar methods. The podcast was born and has generated positive feedback along with a devoted subscriber base," says Chris Hampshire, vice president of carrier practice sales at Gallagher Bassett.
Hampshire, who serves as the podcast's host, has been a member of the insurance industry for 18 years. He earned his CPCU designation in 2010 and has been an active Society member ever since, serving as the Philadelphia Chapter President for two years before being elected the President-Elect of the global CPCU Society Leadership Council in 2021.
IN the Know
Debuting on July 14, 2020, IN the Know: The CPCU Society Unscripted podcast premieres new episodes every other Wednesday across all major podcast services like Apple, Google, Stitcher, and Spotify. The professionally produced podcast provides unique perspectives on the latest industry happenings in 30-minute episodes.
"IN the Know provides a podcast connection to the top innovators, strategists, storytellers, thought leaders, movers, shakers, and go-getters in the risk management and insurance com-munity," Hampshire says. "Each episode normally begins with the guest sharing their story of how they got into the industry and what led them to where they are today. From there, we explore there area of professional focus, the major trends impacting the industry, forecasts for the future of risk management and insurance, and lessons that can be passed on to the next generation of insurance professionals.
"Listeners will gain the knowledge and insights of industry leaders on the current state of our industry and perspectives on what the future will hold," he continues. "They will also learn the steps that each leader took to get to where they are today and advice on how to achieve success in the insurance field."
While relatively new to the podcast scene, The CPCU Society's show has hosted a plethora of thought leaders presenting on topics like innovation and technology, diversity and inclusion, senior leader industry perspectives, and attracting the next generation of insurance professionals. While guests might touch on all four subjects, for this article's purpose, here are some examples of what selected individuals discussed in their episodes.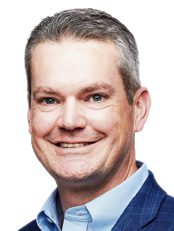 Innovation and technology
In "How Do We Use Disruptive Technology to Solve for the Insurer of the Future?", Nigel Walsh, managing director of insurance at Google and a host of the Insurtech Insider Podcast, says: "FinTech and insurtech over the last four to six years [have] definitely helped the industry with a better outlook as to where to come to work to do cool things. It's been a delight … helping people do digital transformation [and discover] new business models, all the cool disruptive stuff.
"Given the technology, the things that we now understand, and people's ability to share and consume data different ways, I think that whole fundamental shift goes into position where we use data to … drive very different conversations."
In "How Does One Become the Most Interesting Man in Insurance?", Rob Galbraith, the author of The End of Insurance As We Know It, keynote speaker, and globally known insurtech thought leader, discusses four themes regarding technology: "Number one, I think the pandemic and then the resulting downturn in the economy has really focused innovation efforts. I think there were a lot of what we tend to call bright shiny objects out there. Number two, there's a need to go digital. Any qualms that you had, or any hesitation that you might have had, I think those have been blown out the door.
"Number three, work-at-home is mission critical. Companies that are investing in tools and technologies to make the experience of working at home the best, and finding ways to still drive corporate culture, are ones that can actually gain a competitive advantage during this time. The last thing is new products and new services. I would argue that countries that have a healthy robust insurance marketplace are going to have healthier economies."
In "How Do You Reinvent an Age-Old Insurance Product?", Kate Terry, the co-founder and chief operating officer of Surround Insurance, a startup that launched in November 2020, discusses networking regarding insurtechs: "It's easy to get caught up in the insurtech conference and the pitching sort of lifestyle. And there's nothing wrong with any of those things. They all have their place and they're fantastic, but they're not building the product. If you don't have something to sell, you're really going to get nowhere.
"This is a really rich ecosystem in which everybody knows everybody else. Build your relationships and build them broadly with other entrepreneurs, with carriers, and with other people in the business. It is going to mean a lot for your success."
Diversity and inclusion
In "What Does Risk Management Need To Do To Be More Diverse and Inclusive?", Robert Cartwright Jr., division manager of environmental health, safety and sustainability for Bridgestone Retail Operations, says that regarding diversity and inclusion, "actions speak louder than words. And a lot of times companies were saying, 'we want to be more diverse. We want to have more diverse talent.' But what were the steps that they were doing to do that?
"It's been a proven fact that a diverse organization is profitable, because they are able to tap into the collective mindset of the community."
In "Where Does the Insurance Industry Fall Short When It Comes to Diversity and Inclusion?", Megan Stewart Hodge, a leadership and career coach and the founder of Cultiver LLC, an advisory practice focused on fostering cultures and inclusion, says that "this concept of inclusion is really a combined feeling; it is a sense of 'belongingness' that you are part of the team. But it is also a sense of uniqueness that those very characteristics that differentiate you are seen and welcomed and valued.
"This often comes down to mentor-ship or sponsorship, but I would say one of the key areas where [these] have faltered and have failed to develop a more robust pipeline is this lack of allyship. It's mentorship or sponsorship to assimilate within an organization versus the authentic individual."
In "What Do You Think of When You Think of Culture?", Kristen Bakalar, senior director of learning, development and employee experience at CarGurus, says, "To me, culture is how we make decisions; culture is how we talk to [and about] each other. Culture is the worst behavior that we tolerate.
"When it comes to diversity and inclusion, I think—analyzing what's actually inclusive about our culture—how do we change that behavior to be more inclusive? It's my view that it doesn't matter how many 'diverse' people we bring into the organization; if we're not a culture where we promote diverse people and where we pay equally, we're not an inclusive culture."
Perspectives from senior leaders
In "How Do You Embrace Technology and Get Your Arms Around New Risks?," Dame Inga Beale, an experienced business leader who spent over 38 years in global financial services—her most recent executive role was chief executive officer of Lloyd's of London—discusses managing diverse teams: "Because I moved [to different] countries quite a bit, I learned the importance of understanding different cultures, and that's when I really started to understand the beauty of diverse teams. I learned how innovative and creative these diverse teams are, but also what a challenge it can be to manage them, and how much easier it is in a way to manage people who are just like you.
"We have to keep moving forward. I don't want the insurance industry to be stuck in the past and be left behind. We must make sure we keep modernizing and that we're about serving the purpose that we should be serving."
In "Are We Still Operating on a Legacy Model or a 'What Could Be' Model?", Jeff Gallimore, chief operations officer for the Zurich North America U.S. Commercial Insurance unit, discusses the future of business: "The way that we do business is going to continuously change. The way that you market and engage is going to be different.
"The office will change dramatically. I think that going into the office will be a place where you go to specifically meet with colleagues, it won't be about 'going to work.'"
In "Will Automation Give You Better Estimates on Risk and Human Judgment?", Peter Miller, president and CEO of The Institutes, discusses his organization's role in the changing industry: "Our goal is to be a knowledge leader to the industry. The Institutes is 111 years old so, obviously, it's adapted over time. The program has morphed and will continue to morph as the industry does. We want to make sure we teach what people know today, but also what they're going to know going forward."
Attracting the next generation
In "What Are Some Proactive Ways to Improve Diversity and Inclusion Equity?", Deidre Wright, CEO of Strategic Stories and a board advisor for Juniper Labs, shares that "having diversity represent your company and … brand is going to be the key factor to recruitment. The companies that do the best job are pretty comprehensive in what they do. There's accountability, there's measurement, and there's also inspiration to keep doing more."
In "What Skills Does the Insurance Industry Need?", Laurie O' Shea, the global sector leader of Korn Ferry's Insurance Practice, shares that "the way we need to think about ourselves in the insurance industry going forward is not so much what our title is today, but what's our skill set. That'll fill the talent gap going forward.
"I think the key word today is 'agile'. You need to be agile in your skills, the way you face problems, and the way you lead people. We find that those who test high with learning agility are far more adaptable." Korn Ferry is a consultancy that specializes in helping organizations with talent acquisition and professional development.
In "What Attracts Young Talent?", Keyson Dingle, an underwriter at Westchester, a Chubb Company, shares his thoughts on reaching out to university students: "I like what the risk management schools are doing. You can go to those schools and talk to [the students]."
However, to bring more awareness to just those in the risk management and insurance department, Dingle advises to reach out to different business departments. "A lot of students in the business program don't know about insurance," he says, "but I will go talk to them and say, 'Hey, this is my career right now and this is how I progressed.'"
As for memorable moments on the podcast, the best "involve the guests giving their forecasts for how the insurance industry will look in the year 2025 and their answers to the question 'What do you wish you knew when you first started that you know now?' No two guests have answered that last question the same," Hampshire concludes.
For more information:
IN the Know podcast
www.cpcusociety.org/CPCU/Education/IN_the_Know_Podcast