Broken Glass
FROM "INSURANCE GIRL" TO AGENCY OWNER
Gaining credibility and respect in a "man's world"
By Elisabeth Boone, CPCU
"If you blink, you might miss it." That's the cliché people use to describe any of the countless small towns that dot the American landscape, and tiny Corydon, Indiana, may be one of those towns. Tucked into the southernmost corner of the Hoosier State, Corydon achieved distinction as the site of the state's first constitutional convention and until 1825 served as its first capital. Far from the crowded interstates and sprawling suburbs of Indianapolis, Corydon moves to a slower rhythm that's perhaps more characteristic of the mid-South than the Midwest.
Corydon is home to Bennett & Bennett Insurance, Inc., which has been serving the region for 125 years. The agency, which also has an office in New Albany, writes business in Indiana and Kentucky and operates under the leadership of Pamela Bennett Martin, CIC, and her brother, Larry Bennett.
Like most insurance professionals, Martin didn't plan a career in the industry.
"I graduated from college with a teaching degree, and at that time there was a teacher glut so there were no jobs," she recalls. "I asked my father if I could come to work with him until a position opened up, and the rest is history. I started with the agency in 1980 and have been here ever since."
Martin began as the receptionist, then became personal lines manager and later moved to the commercial side. She and her brother purchased the agency from their father in 2006. She serves as president, and he is secretary-treasurer.
Bennett & Bennett has 16 employees in its two offices and writes a wide array of coverages in its two-state territory. In addition to personal and commercial lines, the agency offers life, health, and benefits.
"We're basically a generalist, but we have expertise in a number of niche markets," Martin explains. Among these are auto dealers, banks and financial institutions, collector car owners, construction contractors, craft brewers and distillers, golf courses, hospitality, lawyers, municipalities, nonprofits, restaurants, retail, and vacation home owners. "We have employees who specialize in one or more of these classes, so we can deliver a high level of expertise to our insureds," Martin asserts.
In addition to expertise, Bennett & Bennett offers its insureds access to more than 50 markets through its partnership in Keystone Insurers Group, which has more than 280 independent agency members that represent some $2.3 billion in premium volume.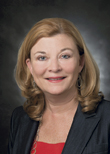 "Insurance girl"
A woman who had been in the business for 40 years likely can recall some instances when she was treated with less than the level of respect to which she was entitled.
"In my early days with the agency, company reps sometimes referred to me as the 'insurance girl,'" Martin recalls. "When I attended meetings, I was usually ignored because it was assumed I was a CSR—not that that's a valid excuse for treating a woman as 'less than.' Even more recently, when I've introduced myself to fellow agents as an owner and principal of my agency, I've seen jaws drop," she adds. "I no longer answer to 'honey' or 'sweetie,' and please don't pat me on the shoulder—or anywhere else.
"I'm the immediate past chair of the Indiana Big 'I' board," Martin continues, "and I've found that with the younger men my gender is absolutely not an issue. They're extremely respectful, perhaps because they were brought up by a generation of women who were professionally employed and didn't expect to be treated as if they were inferior to men. When I was young, women were never included in conversations and often were ostracized at social as well as business functions. I'm encouraged to see that those old attitudes and behaviors are becoming a thing of the past.
"We still have a long way to go, but we're moving forward, and I hope that in my leadership roles I'm helping to create a more level playing field for everyone. I strive to be a good representative of a professional independent agent and a contributing member of the community."
Empathy and listening
When asked what qualities she thinks women bring to leadership positions in independent agencies, Martin responds: "Empathy. I want to make money, but I'm not driven by that. I'm driven by my desire to learn what I can do to take care of my customer. We have a culture in our agency where each of us really listens to what the prospect or client is saying, analyzes the situation, and identifies the best solutions for that individual or business."
Listening attentively, Martin observes, is another quality that women bring to the work setting.
"We think it's important to get the whole picture and not just the part for which we may have a quick solution," she asserts. "We take a global view of each client's or prospect's exposures so we can address them with appropriate coverages, loss control measures, and other risk management strategies."
Asking focused questions and listening to the client's or prospect's answers also is a way to identify misconceptions about exposures, coverages, and premiums, Martin comments. "We may discover that someone hasn't purchased a certain kind of coverage thinking it's not needed or being afraid that the premium is too high. That gives us the opportunity to explain how the coverage works and why it makes sense to add that coverage to the insurance program."
Another valuable skill that women possess, Martin notes, is relationship building. "I think our agency's high retention rate owes a great deal to the fact that we really focus on establishing relationships based on trust and honesty. No one we serve is just a customer to us; everyone is a valued partner in our success and longevity."
Opportunities abound
It's no secret that the insurance industry has a less than stellar reputation among young people, who often see it as stodgy and out of touch with their values. At the same time, they're being bombarded with advertising messages that feature bargain policies being hawked by an enthusiastic cashier, a talking gecko, and Mr. Mayhem. Is there a place for young people in this colorful but confusing mélange?
Martin definitely thinks so.
"Younger people want to have a positive impact in their community, and to my mind there's no better way to do that than to be an independent agent," she declares. "Even in a small town like Corydon or New Albany, opportunities abound for community service. If you have a passion for giving back and for being part of something bigger than yourself, this is the career for you."
Also appealing to young people, she points out, is the flexibility independent agents enjoy. There's time to attend a kid's basketball game or a school play, as well as to volunteer with community projects.
When one lives and works in his or her community of choice, Martin says, "Doors open—to neighbors, friends, and prospects. Being an independent agent is a great way to engage in your community at all levels."
Do you know a female independent agency leader we should feature? If so, please email details about her as well as contact information to Elisabeth Boone, CPCU, senior features editor (elis.boone@icloud.com). We'll take it from there.