SAWA BONA: A GUIDE TO DIVERSITY AND INCLUSION
Industry leaders share advice at Big "I" Diversity Summit
By Christopher W. Cook
I recently watched the CNN documentary series The Eighties and enjoyed learning more about the grown-up issues that characterized the decade, which I spent scraping my knees and avoiding eating my peas.
As a fan of 80s music—yes, I listen to the 80s Pop Pandora station while I get ready for work—I was surprised by the episode about the rise of the music video and how at first artists of color like Michael Jackson weren't allowed to appear on MTV because their music didn't fit MTV's mold of "rock" music.
The phrase "fitting the mold" made me stop and think. If a company's C-suite consists entirely of white males, will they select another white male to fill a vacant spot because it fits the mold? What if other employees up for promotion have more experience, and what if the applicants include women, people of color, or members of the LGBTQ community?
Granted, Michael Jackson's videos eventually made it to television, paving the way for exposure to hip-hop and other musical genres and leading new performers to advancement on the Billboard charts. Will everyone currently in your office—or new hires—receive the same opportunities to develop and advance?
An inclusive and diverse culture can't be created overnight. I recently attended the Independent Insurance Agents and Brokers of America's (Big "I") Level Up Agent Summit in New Orleans, an event that was focused on awareness and best practices of diversity and inclusion.
Originally formed as the Diversity Task Force in 2000, The Big "I"'s Diversity Council was created to increase agency participation within the organization and to help current members tap into diverse customer markets.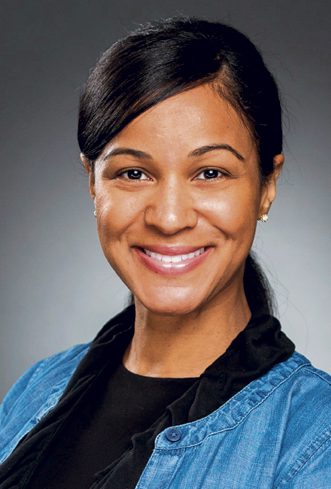 "The Big 'I' Diversity Council's mission is to engage and develop a sustainable diverse independent agency network by partnering with state associations, carriers, and industry affinity groups," says Whitnee Dillard, the Big "I"'s director of diversity and inclusion. "The council strategically works with association leadership on inclusionary practices, identifying underrepresented independent agency owners in both membership recruitment and retention efforts."
In collaboration with the Big "I", the council later shared its message by hosting a series of events.
"Our main goal was to help agents expand their knowledge of diversity and inclusion as a business imperative and challenge them to think differently about innovative ways to outperform competitors," Dillard says. "Our secondary goal was to foster an inclusive environment that would result in people connecting and building new relationships with other leaders within the IA channel. We also hoped to cast a wider net to attract those underrepresented in our industry so that our attendees better reflected the demographics outside of our event."
Prior to planning the inaugural Level Up Agent Summit, the council hosted several well-received national events, which led to its first diversity leadership workshop focused on marketing to diverse demographics and partnering with carriers on diversity initiatives.
"This event was held in January 2018 in conjunction with the Big 'I' winter board meeting," says Dillard. "After a thoughtful dialogue with Big 'I' CEO Bob Rusbuldt, then-Chairman Joe Leahy and Vice President Madelyn Flannagan, along with the backing of our council, we agreed it was time for us to host our very first diversity summit."
While planning the event, "It was important to us that we were inclusive of various industry voices, so we hosted a wide variety of advisory calls with both member agents and state association leaders who were not involved with the council to ensure that both our content and marketing efforts resonated," Dillard says. "We thought outside the box and sought out exceptional external leaders who could help us build a first-class event."
Humanity toward others
One of the leaders at the summit who shared their thoughts on diversity and their company's best practices was Stephanie Piimauna, executive director of diversity for MGM Resorts International, who highlighted the opening session. With 81,000 employees across all its locations, how does a large company keep its workforce committed to diversity and inclusion? Ultimately it comes down to four core values: integrity, inclusion, teamwork and excellence.
"We must start with integrity," Piimauna said. "In our leadership, when integrity is valued, leaders are more open to inclusion and creating inclusive environments. What is the return on investment for an inclusive environment? A high-performing team. Teamwork. What is the return on investment of the outcome of a high-performing team? Excellence—not perfection, but excellence. Core values matter. Everything we do leads back to them."
The company gets everyone on board from the get-go by sharing and practicing Ubuntu ethics. Ubuntu, which can be translated as "I am because we are" or "humanity toward others," traces its origins to mid-19th century Southern Africa.
"Every single one of our employees learns about this when they step onto our properties," Piimauna said. "It's emphasized in our new hiring orientation and in all of the training they experience. It's about intentional connection."
When greeting someone, one uses the phrase "Sawa Bona," which translates to "I see you" and is equivalent to saying "Hello." The response is "Sikhona," meaning "I am here."
"It's the power of recognition and acknowledgement," Piimauna said. "I see you; you deserve to be recognized. It's bringing others into existence. Until you see me, I am not here."
She shared the example of a woman who lived in Las Vegas during the economic downturn of 2009-2010 and who vowed to acknowledge and respond to the area's homeless population. While sitting in traffic one day, she observed several drivers ahead of her ignoring a homeless man at the corner. She waved him over, took out a few dollars and handed them to him while saying, "Sawa Bona." He returned the money and said "Sikhona."
"He was there, and she chose to see him," said Piimauna.
But merely looking at someone and thinking, "Okay, someone's there," is not enough. It's about knowing your team members and seeing beyond appearances.
"For those who do hiring, how much unpacked talent and potential is working amongst us, although we just haven't seen it?" asked Piimauna. "Inclusive leaders mine the talent. They're constantly mining. They'll find the gold eventually.
"Do we stop at uniforms? Do we stop at titles and not see the whole person? We have a large Hispanic population in our organization; many end up as guestroom attendants. Many of them are educated. But we often don't see the background; all we see is a housekeeper's uniform. I beg you to see deeper and beyond. Our work in diversity and inclusion is about providing access to opportunities for all. But you have to be willing to see."
Beginning in 2000, all executives and managers at MGM Resorts were required to attend a three-day intensive Diversity Champion workshop so they could learn to become role models for delivering extraordinary customer service by living diversity and inclusion at work, at home, and in the community.
"How do we enforce an inclusive environment in our day-to-day operations?" asked Piimauna. "At MGM Resorts we S.H.O.W. it.
"Smile and greet, not just some people or the paying people, the brown people or the ones in wheelchairs, but all people.
"Hear their stories. One of the greatest ways to respect another human being is to listen and pay attention to them.
"Own it. Take ownership and be a good citizen.
"Wow them. You only need the first three to make a difference. Because if you're doing the first three, you're probably already wowing somebody. A show without the W tells the world that we can't spell," she said with a chuckle.
As for being an inclusive leader, Piimauna referenced a Deloitte Insights article that shared six signature traits. They are:
Commitment. Be committed to the purpose of diversity and inclusion.
Courage. Once you're committed, you must have leadership courage. It takes courage to have the tough conversations, to make others aware of what they might not be understanding.
Cognizance. Start with yourself and your own biases. Make sure you are aware of them. You cannot move forward to your future state until you've acknowledged your current one.
Curiosity. Ask questions. When you get the answers, it'll heighten your cultural intelligence about people who are different from you.
Cultural intelligence. Learn about the culture and environment at all of your company locations and the cultures of all of your employees.
Collaboration. Share your diverse perspectives. Working with those around you leads to stronger partnerships.
Authentic and intentional
Diversity is the who, and inclusion is the how. It's key to foster an environment and culture where everyone can feel accepted and have a sense of belonging. A panel session titled "Attracting and Retaining Diverse Talent" provided advice on being authentic and intentional with diversity recruitment efforts.
Panelist Christopher Didomizio, SPHR, SHRM-SCP, senior vice president of talent acquisition for Chubb, said, "Beyond those whose title includes the word 'talent', attraction is a shared responsibility of every Chubb colleague worldwide—the extension of our workforce as talent ambassadors in every internal and external interaction is a clarifying mark of Chubb's commitment to developing a truly inclusive and accomplishment-rewarded culture of achievement."
"Leaders are managers, but managers aren't always leaders," said Rebekah Ratliff, president of Capital City Mediations. "It's important for companies to not just jump on the diversity and inclusion train … . People know when you're genuine or not as an organization. You have to be genuine and authentic to be successful.
"Organizations have to acknowledge that just inviting people in and hiring them is not the end of the work; the inclusion piece is engagement," she continued. "When you invite someone over to your house to eat, that's one thing, but maybe they'd like to bring their cooking skills. It's about asking people to contribute their skill sets."
"This generation coming up today, they pierce through you and look for your authentic self really quickly," added Quincy Branch, CEO and president of The Branch Company (the July 2017 Rough Notes Agency of the Month). "You have to want to find diverse talent and not be forced to find them. After you get them, it's about relationship building."
"Inclusion has to be a priority," said Angela Lapp-Johnson, principal at Catalyst Recruiting and Consulting. "Don't create a false initiative. You have to foster a true initiative based on what your organization wants and put it into play. Make sure you're doing it for the right reasons and that you're targeting the talent that aligns with it."
For more information:
Big "I" Diversity Council
www.independentagent.com/diversity
The Big "I" Diversity Council's company partners:
Allstate
Amerisure
AmTrust North America
Chubb
Church Mutual
CNA
Encompass
The Hartford
Liberty Mutual Insurance
MetLife
Nationwide
Progressive
Safeco
Selective
Travelers
Westfield Insurance
Vertafore