LEADING WITH COMP
Open the door to great prospects by becoming an expert in workers comp
By Elisabeth Boone, CPCU
Let's have a show of hands: Who enjoys prospecting?
That's what I thought. Prospecting for new clients can be stressful, tedious, and often unproductive. Even seasoned agents and brokers undertake this task with a sigh of resignation if not a shudder of dread. Fear of rejection looms large; and, firm resolutions notwithstanding, many producers postpone prospecting until they run out of time and excuses.
Prospecting may never fit the definition of fun—but what if it could be focused, productive, and rewarding? Oceanus Partners, a consulting firm based in the Tampa Bay area, offers an approach designed to help agents and brokers shed their fear of prospecting by developing expertise in the intricacies of workers compensation, which is a major pain point for most employers. Employers often don't understand workers comp and tend to purchase it as a commodity, opting for the lowest premium without understanding what they are (or are not) buying.
Workers comp is an ideal lead-in to a prospect, explains Susan Toussaint, co-founder and partner at Oceanus, a ReSource Pro company, because it's frequently a mystery to employers. In addition to the predictable comp risks,employers must contend with unpredict-able ones. Among the predictable risksare the premium audit, claim reservenegotiations, and experience modification factor projections. The unpredictable risks include rate changes, regulatory and legislative changes, and trending risks like the opioid crisis and compounded drugs.
For a producer who becomes knowledgeable about comp, Toussaint observes, it's a powerful door opener and prospecting tool.
In the Oceanus Leading with Workers Compensation offering, which is a 12-month engagement, producers learn how to lead a prospect from focusing on price to focusing on effective ways to manage its comp risks by avoiding:
Errors in the experience mod
Premium audit overcharges
Improper medical treatment of injured employees
Unwittingly encountering risks that involve federal acts, fines, and litigation
Denied group health claims because of mismanagement of FLMA, COBRA, and ADA
Lost business opportunities and reduced profitability as the result of an increase in the experience mod
Getting in the door
Getting in the door of a desirable prospect, Toussaint says, is more difficult today than ever because buyers are being bombarded with a dizzying array of information and are demanding more from producers. "You must convey that you've got the goods before you can get in the door," she declares. "Instead of talking about price, emphasize what the prospect will get from you."
Vital to getting in the door is the ability to demonstrate to the prospect the specific value the producer can deliver to help the prospect's business achieve its goals with respect to increased productivity and profitability and reduced risks and costs.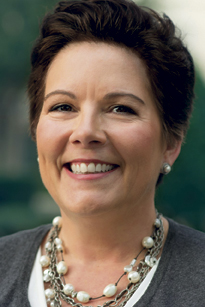 "It's not enough to get in the door," Toussaint asserts. "You have to get in the door with leverage. Most prospects aren't looking to have a conversation about their insurance program unless it's right before renewal. We believe prospects will be more open to having a conversation outside of that 90-day renewal window if it is focused on a risk they may not be aware of, convinces them that the producer understands the challenges their business is facing, or demonstrates that the producer has keen insight into the prospect's industry."
"Buyers are seeking relationships with agents and brokers who can assess their emerging or escalating risks," she asserts. She advises producers to "move away from the pitch that focuses on offering better coverage at a lower price. Disconnect your value proposition from price. Rework your messaging strategy to focus on risk. Create curiosity."
Disruptive Prospecting
A key objective for Oceanus is to guide insurance professionals in enhancing their communication and connection capabilities so they can establish mutually beneficial relationships with potential buyers. The firm created a nine-week online course called Disruptive Prospecting that takes producers through a series of steps that will help them "get in the door with leverage."
"We developed Disruptive Prospecting for a couple of reasons," says Toussaint. "The world is crazy busy, and agents are struggling to obtain an adequate number of first appointments to fill their pipelines. Organic growth is a huge challenge for agencies, and a key reason is that they aren't getting enough right-fit first appointments.
"Not all producers are wired to be process oriented and to do what it takes consistently over time to nurture a prospect and get to the point where the prospect is ready for the first appointment," Toussaint remarks. "Disruptive Prospecting gives producers a structure that will help them be more successful in identifying those right-fit opportunities and, over time, share content that will pique the prospect's curiosity, differentiate the producer, and position him or her for a different kind of conversation."
The course, offered quarterly, covers a range of topics:
Identify what buyers really want (and it's not the lowest price)
Gain clarity about your perfect client type and how to conduct and leverage research effectively
Develop a compelling and powerful value proposition
Craft effective email and phone scripts
Anticipate and overcome objections
Leverage high-value content and trigger event messages
Leverage and develop a prospecting cadence
Develop a center of influence strategy
Build a community with workshops, webinars, and roundtables
Other topics addressed include avoiding common prospecting mistakes, filling one's pipeline with right-fit prospects, and developing the skills that will help a producer get to "yes."
Power messaging
Often, producers make one call to a prospect and then give up if the prospect doesn't take or return the call. The same goes for email messaging, where the approach frequently is "one and done."
Building trust with a prospect is a process, Toussaint says. "Move away from single-shot messaging and toward establishing a messaging cadence," she advises. "Remember, unless a prospect says 'Stop,' he or she is saying 'Not now.'"
To create a messaging cadence, Toussaint says, producers should take a series of steps:
Increase the number of attempts to reach out to the prospect
Increase the number of channels used to convey messages
Increase the duration of the messaging campaign
Determine the spacing of messages: morning or afternoon, days of the week, and so on
In all messaging, Toussaint declares, "Content is king!"
Realistically, she points out, most prospects won't respond to a producer's first messaging initiative … or maybe even to the fifth attempt. "How will you message to the prospects you don't reach?" she asks. "Maybe you're too mad to message again. Maybe you'll decide to wait till next April. You need a new strategy: Don't wait … reach out now!"
For more information:
Oceanus Partners
www.oceanuspartners.com