BROKEN GLASS
MAKING THE LEAP
Ambitious agent went out on her own, now works to attract students to the business
By Elisabeth Boone, CPCU
Nothing if not determined, Tracy Oestreich left an agency where she saw no ownership opportunities and with her husband founded T4 Insurance Solutions, Inc., a multi-line agency based in Jackson, Wisconsin, in the southeastern part of the state. Her husband, Oestreich says, is a silent but stable and supportive partner.
"When we opened our doors in August 2016, I had one full-time and one part-time service agent," she recalls. "This past May I hired my son, Tyler, who had just graduated from college. So now there are three and a half of us." Tyler, she explains, fulfills therole of strategic risk advisor. Nancy Pick is personal lines account executive, andGinny Palmer is commercial lines account executive.
T4 Insurance Solutions is a generalist operation that writes commercial lines, farm and ranch, and auto, homeowners, motorcycle, boat, and snowmobile. Among the agency's niche markets are contractors, restaurants and bars, short-haul trucking, auto repair shops, and condo associations. On the personal lines side, T4 focuses on package business.
The agency serves five counties in southeastern Wisconsin. After just three and a half years in operation, Oestreich says proudly, "Our business comes almost 100% from referrals.
"We now represent almost 20 excellent insurers," she adds. "Many of them are based here in the Midwest and are powerful regional companies."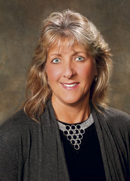 Underwriter, field rep, agent
Oestreich began her career in 1990 as a commercial underwriter trainee with West Bend Mutual Insurance Company. She joined the insurer after completing one year at Marquette University and later finished her degree, along the way earning the CIC, AU, and CPIA professional designations.
"Based on the experience I gained at West Bend, I'm not afraid to write almost any class of business so long as I can understand it and find a market for it," she asserts.
In 1999, Oestreich switched from underwriting to field representation, becoming a regional sales manager for West Bend. "I think I was the third female in the company to hold that position. I loved being out in the field. My territory included Milwaukee, Sheboygan, Kenosha, and Racine, so I called on some pretty heavy hitter agencies," she recalls.
"Agency owners started asking me if I would join them as a producer, and the opportunity to become part of one of these awesome agencies really intrigued me," she explains. "I thought: 'I've got to try this,' so I made the leap and took a position with one of my favorite agencies."
In 2004, Oestreich joined a local agency where a commercial producer was planning to retire, so his book needed to be serviced. "He was retiring gradually, so he was able to act as my mentor while I learned about the accounts," she explains.
"I started at the bottom as a CSR," she adds. "I rated all my own policies, processed my own apps, and became familiar with the other companies the agency represented. That was an invaluable experience, and I'm taking the same approach with my son so he can learn the business from the ground up."
After eight years with the agency, Oestreich began to look for ownership opportunities, which weren't available with the current agency because the owner had two sons who eventually would take over the business. "I bought my book of business and joined another agency," Oestreich says. "My contract specified that I could either open my own agency and join a cluster owned by the agency owner or perpetuate his agency. After about five years I decided to open my own agency. I was fully vested, which helped offset the cost of my buyout, and in August 2016 I launched T4 Insurance Solutions."
Positive changes
As a 30-year veteran of the industry, Oestreich acknowledges that the power base is still built largely around white men, but she sees signs of a shift toward a more level playing field in which women and minorities perform meaningful roles. "On the company side I'm seeing more women in executive positions. I recently attended a session called 'Women in Agency Management' at West Bend, and it was excellent. I'm encouraged by the progress that's being made and am optimistic that it will continue," she says.
Asked what unique qualities she thinks women bring to agency leadership positions, Oestreich cites patience, compassion, strong listening skills, and a desire to help others. "I also see women as being determined and focused," she observes. "Women belong in this industry!"
It's no secret that many young people view the insurance industry with cynicism and distrust or see it as a wacky funhouse inhabited by the likes of Flo, Mr. Mayhem, and a Cockney-speaking gecko. To others insurance is simply boring, conjuring images of guys wearing white shirts with pencil protectors poring over pages of statistics.
To help young people understand the industry, Oestreich attends career days at her local high school, presents a program on the many opportunities available, and invites students to ask questions. She opens her presentations by asking a question of her own: "Are you interested in a dynamic, flexible, and rewarding career?"
"Once students learn that insurance is about more than sales, I can see the light bulbs go on," she says. "An area that's appealing to many kids is technology. Our industry is behind the curve in that regard, and kids like the idea of putting their tech skills to work to design innovative systems."
Oestreich also tells students about the rewards of being involved in industry trade groups. She belongs to the International Association of Insurance Professionals and the National Association of Professional Insurance Agents (PIA). She is a past president of PIA of Wisconsin and recently was appointed state national director, representing fellow Wisconsin association member agents on the national level.
"In addition to taking advantage of educational and professional growth opportunities, I encourage young people to volunteer with trade associations so they can benefit from networking while giving back to the industry," Oestreich says.
"I'm passionate about bringing young people into the industry, because we need them to replace retiring Boomers and to prepare themselves to assume leadership roles going forward, on both the agency side and the company side," Oestreich says. "It's essential for the future of our industry to present insurance as an attractive career opportunity for young people, one that offers a variety of paths that include but are not restricted to sales."
Do you know a female independent agency leader we should feature? If so, please email details about her as well as contact information to Elisabeth Boone, CPCU, senior features editor (elis.boone@icloud.com). We'll take it from there.