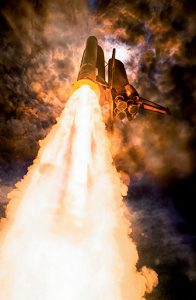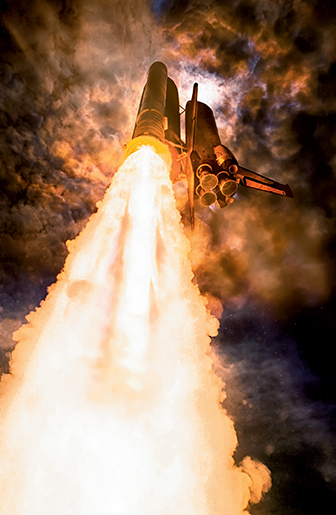 ORGANIC AGENCY GROWTH … SEVEN PROVEN DISCIPLINES
Master these areas to see your agency growth skyrocket
[C]ompanies with the highest customer loyalty grow at more than double
the rate of their competitors. Loyalty is not a choice
any longer. It is the only way to build a sustainable competitive advantage.
Beyond Insurance
By F. Scott Addis, CPCU, CRA, ACRA, ASA
---
For the past 15 years, Beyond Insurance has supported insurance agents and brokers with a proven organic growth system comprised of seven disciplines.
Organic growth is self-generated expansion from within. Your firm's organic growth will skyrocket as you focus on mastering the following disciplines:
Consultative sales. This is a process, not a product-oriented business development approach, focused on discovering the pain points facing your customer. A consultative sales process empowers you to be viewed as a diagnostic advisor … an educator, not a salesperson. Below are a handful of characteristics of a consultative sales advisor:
Values the art of discovery
Active listener
Strategist
Thinks outside the box
Problem solver
Advocate
Researcher
To achieve trusted advisor status, you are encouraged to use a consultative sales framework consisting of five interdependent steps: 1) Risk identification, 2) Risk assessment,3) Risk evaluation, 4) Risk action, and 5) Monitoring the impact of the risk actions.
Consultative sales advisors see the paramount importance of the first three steps; they do not feel confident in recommending a plan of action without identifying, assessing, and evaluating risk issues.    The process sets the stage for the risk decision matrix—a decision tree whose branches include risk avoidance, reduction, retention, and transfer. The outcomes of a consultative sales approach are numerous, including significantly improved client acquisition, underwriting concessions, longevity of relationships, referrals, value creation, and pride.
Stakeholder intimacy. It's the process of deepening relationships with those individuals who have a vested interest in you and your firm. These stakeholders are so important that you would not exist without them. Intimacy represents an emotional attachment … a deep relationship with another person.
Your organization's organic growth will expand as you build intimate relationships with six primary stakeholders: 1) Clients, 2) Carriers, 3) Colleagues, 4) Centers of influence, 5) Prospects, and 6) Community. As you focus on each of the six stakeholders, ask four questions:
Why is the stakeholder so important to me?
What is my stakeholder's primary need?
What am I doing now to care for this stakeholder?
What else might I do and what would be the end result?
This process will enable you to pinpoint activities that deepen relationships and form emotional attachments.
Customer loyalty benchmarking. It is essential that you develop the capacity to measure and manage customer loyalty. It is not enough to understand your retention and organic growth rates. You must dig deeper to understand why your customers return, why they defect, why they buy, and what they say about you.
Research confirms that companies with the highest customer loyalty grow at more than double the rate of their competitors. Loyalty is not a choice any longer. It is the only way to build a sustainable competitive advantage.
To illustrate the impact of customer loyalty and engagement, let's study the Lifetime Value Profitability Chart. An initial $5,000 first-year revenue opportunity grows to cumulative revenues of $200,000 over a 7-year period when considering repeat purchases, cross purchasing of additional products and services, referral harvesting, and profit from price premium.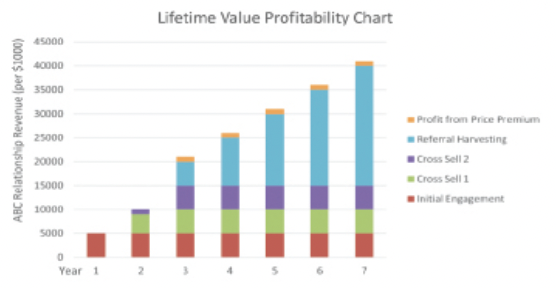 So, how do you benchmark customer loyalty and engagement? The Ultimate Question, "How likely is it that you would recommend (Agency Name) to a friend or colleague?" Today, this simple question is used by many of the most admired companies in the world through a metric that produces the Net Promoter Score (NPS). The formula for the Net Promoter Score is the percentage of customers who are Promoters (P) subtracted from the percentage who are Detractors (D).
Sales leadership. This involves setting vision and direction that define the sales culture of your agency. Sales leaders shape, guide, and mold the behaviors, values, actions, and outcomes of their business development teams. Sales leaders have a servant-leader mentality. Their style reflects a selfless approach to leadership, one that places serving others as priority number one.
Gifted sales leaders understand that personal recognition is not the path toward team success. Their ego and individual goals do not get in the way of the larger picture of team goals.
So, how does an agency develop a high-performing sales culture? It begins with a set of core values that shape, guide, and mold the firm's work environment, business relationships, and, ultimately, the customer experience journey. Talent sourcing is a key component of sales leadership.
When an individual is being evaluated, there are three essential criteria: 1) Get it, 2) Want it, and 3) Capacity to do it. A person should not be hired unless all three criteria are met.
Last, sales leadership involves the creation of a sales playbook through which skill development, ideal client profile, pipeline management, goal setting, and accountability plays are run.
Brand and brand management. A brand is the way your organization is perceived by those who experience it. It is what sets you apart from all others in the marketplace.
Brand management is the process of creating brand identity, brand awareness, brand differentiation, brand trust, and brand equity. And it involves the continual development of positive perception from your target audience. Your branding strategy inspires excitement, awareness, and confidence among everyone associated with you and your business. So, how do you establish brand identity, brand awareness, brand differentiation, brand trust, and brand equity? Start with a SWOT analysis. You will gain insight and clarity as you analyze your 1) brand strengths, 2) brand weaknesses, 3) brand opportunities, and 4) brand threats from those with whom you compete.
The SWOT exercise will empower you to define what you stand for … your brand identity as well as the unique characteristics that set you apart in the marketplace. It also will empower you to evaluate touch points with clients, prospects, carriers, centers of influence, and community. A simple, yet powerful means of branding involves the creation of distinctive elements including your logo, mission statement, sales process, service plans, stewardship review, claims management, and more. Each element should be named and protected.
The Nike swoosh serves as an example. The term "Just do it" and Nike's mission statement "to bring inspiration and innovation to every athlete in the world" has created one of the most memorable brands in the world.
Cross-sell. Cross-selling increases the customer's reliance on you and decreases the likelihood of switching to a competitor. It is an important barometer for organic growth and profitability because it represents the revenue associated with each customer. In today's challenging business environment, cross-selling is no longer an option. It is a requirement for your future and that of your business. As with any successful initiative, you must have a plan. Cross-selling success begins with a strategy map that responds to the questions Why?, What?, When?, and How? The biggest obstacle to cross-sell success is not knowing enough about your clients. While you may have vast data, it is imperative that you have a discovery process to better understand your clients' goals, passions, and struggles. The art of discovery and active listening are key ingredients to cross-sell positioning. Cross-selling success requires that you adeptly handle the specific issue at hand before introducing an additional product, service, or capability. A research study by Deloitte revealed that the odds of selling a product or service to a new customer are about 15%, whereas the odds of a sale to an existing customer are 50%. Plus, it costs five to eight times more to sell to a new customer.
Prospect research and qualification. Without doubt, the most common question that Beyond Insurance is asked is, "How do I implement a disciplined, strategic, energized system to fill our prospect pipeline with qualified opportunities?" As we peel back the onion, we have found that far too many agencies use a hit-or-miss approach, quarterbacked by the individual producer or telemarketer. These initiatives lack creativity, differentiation, and impact. Sitting in front of you are raving-fan clients, centers of influence, and carrier representatives who will be honored to sit on your Prospect Research Advisory Board. Why? Because they trust and respect you. They want you to be even more successful than you are today. All you have to do is ask. Once your Prospect Research Advisory Board has been formed, submit a list of researched individuals and organizations that you would like to get to know. I suggest that you use LinkedIn to find mutual connections. Your Board will help position you for success. First-hand experience indicates that when your Board Members do not recognize anyone on your list, they will come up with one or two contacts. Don't be surprised if your Board insists on making phone calls and/or sending emails, singing your praises to your target audience.
When you advance your capability in the seven disciplines, your organic growth rate will skyrocket!
The author
Scott Addis is CEO of Beyond Insurance and an industry leader. His agency was recognized by Rough Notes magazine asa Marketing Agency of the Month, he was a Philadelphia finalist for Inc. magazine's "Entrepreneur of the Year" award, and was selected as one of the "25 Most Innovative Agents in America."
Beyond Insurance is a consulting firm that offers leadership training, cultural transformation, and talent and tactical development for enlightened professionals who are looking to take their organization to the next level. Since 2007, the proven and repeatable processes of Beyond Insurance have transformed agencies as measured by enhanced organic growth, productivity, profitability, and value in the marketplace.
To learn more about Beyond Insurance, contact Scott at saddis@beyondinsurance.com.