BROKEN GLASS
PROVEN WINNER
Roanoke agency owner does big things with a small staff
It's our pleasure to present another article in our Broken Glass series, in which we talk with a woman in the independent agency business about the challenges and rewards she has experienced throughout her career. This month we profile Carla Jean Marks, CIC, CISR, owner of Marks-Tiller Insurance Agency in Roanoke, Virginia. Earlier this year Marks was named the 2018 Professional Agent of the Year by the National Association of Professional Insurance Agents.
If you harbor the belief that women who speak in a soft southern drawl are delicate camellias, think again. Carla Jean Marks may not be a steel magnolia, but she adroitly balances running her agency with involvement in her state and local PIA chapters and a strong commitment to community service.
Established in 1974, what then was known as Wayne-Tiller Insurance Agency was a one-person shop until Marks came on board in 1991. At that time the agency's total book of business was $750,000. Marks purchased the all-lines firm in 1998 and since then has built its volume to $2.5 million. In addition to Virginia, the agency is licensed in Tennessee, West Virginia, and North Carolina and operates with a staff of five including Marks. Property/casualty premium volume is split about 60% personal lines and 40% commercial, and the agency also writes life, health, and annuity business. On the commercial side, a niche market is artisan contractors. Other classes the agency pursues are trucking, garages, hotels and motels, restaurants and bars, wholesalers and distributors, special events, and technology.
Marks-Tiller scores rave reviews from clients, as shown by comments on the agency's Facebook page.
"Always extremely helpful! Customer service that goes above and beyond! Couldn't imagine a better company!"
"Carla has been my insurance agent for many years, and I would never consider going anywhere else. She has always been considerate of my financial needs and made adjustments accordingly. Highly recommend the agency."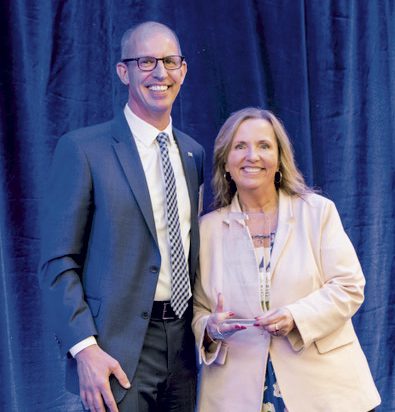 Getting started
Like most of us, Marks didn't contemplate a career in insurance when she was making plans for life after college. "At Longwood University I studied to become a teacher and later decided that wasn't for me," she says. "The summer after college I went to the Outer Banks and managed a fast food restaurant. One day a woman came up to me and said, 'Carla Jean, I have a job for you.' I joined her agency, and that's how I began my insurance career. I was a customer service representative for agencies on the Outer Banks before returning to Roanoke, where I went to work for Wayne-Tiller."
Marks and her daughter, who also works in the agency, are involved in PIA activities at the local and state levels. "I love being active in PIA," she says. "My daughter and I are co-chairs of the state association convention committee for 2018 and 2019. I'm also on the board and am serving as an officer this year. I'm on several committees, including CIC and education. For me, being involved in PIA is a way to give back to a group that has given so much to me."
Over the last 20 years or so, women have made great strides toward gaining acceptance and respect in the insurance industry. Women are at the helm of some major insurers, and many others hold key executive positions with carriers. On the agency side, it's no longer unusual to see women as owners and producers, unlike in earlier times when men ran agencies and sold insurance while women stayed behind the scenes to provide customer service.
Marks began her insurance career in 1981 and doesn't have a batch of war stories to rival those told by women who entered the industry in the 1950s and 1960s and found that a woman's place was in the steno pool. Still, she's a native of southwestern Virginia, whose southern heritage runs deep, and she recalls more than one instance of what Yankees likely would consider patronizing treatment.
"Even in the 1980s there was still a perception that women worked only in customer service," Marks recalls. "All the agencies were headed by men. I didn't know of any agencies at that time that were run by women."
That said, she comments, "I think the insurance industry has been a leader in advancing the status of women at companies and agencies. I think we've done it faster and better than many other industries. Today women in the insurance business are not just accepted but respected."
Leadership traits
What qualities does Marks think women bring to leadership roles in the industry?
"I believe that at the heart of insurance is caring and compassion," she responds. "Many women possess those attributes because they take care of their own families and manage family finances in addition to pursuing professional careers. Because we juggle so many roles, we can bring that ability to the business. We can multitask but still concentrate on meeting the needs of our clients. I think women are well suited for careers in insurance."
We asked Marks what advice she would offer to a young woman who is considering an insurance career.
"I'd start by telling her that insurance is a wonderful profession," she says. "In addition to the skills I've described, she needs to bring her authentic self to the business. Recently I attended the 2018 Global Leadership Summit, and a top female Wall Street executive made that point. Know who you are, be who you are, and understand that your life experiences are a valuable asset in the business world."
"The envelope, please"
How did Marks react when she learned that she had been named PIA's 2018 Professional Agent of the Year?
"I was in absolute shock, and I was totally speechless," she recalls. Agents are nominated for the award without their knowledge and so are surprised to find out that they've won the prestigious honor. "I'm incredibly humbled by being chosen, and I'm so grateful for the opportunity to serve in PIA with other insurance professionals. I hope to represent the position with dignity, integrity, and respect."
Marks received the award at PIA's national convention in Washington, D.C., and comments that the experience was unforgettable. "I'm still on a high, and I don't think my feet have yet touched the ground," she says with a chuckle.
Marks is quick to share the limelight with her employees. "I didn't win this honor alone, and I'm grateful to my staff for their support. Each of us has to be a team player so we can be trusted advisors to our clients."
By Elisabeth Boone, CPCU
Do you know a female agency owner, principal, or executive who might make a good subject for a future Broken Glass profile? If so, please contact Elisabeth Boone, CPCU, senior features editor of Rough Notes (elis.boone@icloud.com) and provide some details about the woman as well as contact information. We'll take it from there.