Professional Development
UNSTOPPABLE PROFIT
Podcast prepares its listeners to make a difference, be unstoppable and leave no regrets
By Christopher W. Cook
Trucking along on our insurance podcast journey, our next stop is the Unstoppable Profit Podcast. Hosted by Mike Stromsoe, president and a team leader at Stromsoe Insurance Agency (the April 2016 Rough Notes Agency of the Month), the weekly show provides listeners with tools needed to develop and grow their business based on the principles taught through Stromsoe's Unstoppable Profit Producer (UPP) program, which was formed in January 2013.
The coaching program's premise is to "help agents grow and create more wealth so they can have more freedom to live life on their own terms, the #UPPlife," Stromsoe says. "That's all delivered through a simple three-step blueprint called the '3 P's': people, processes and promotion.
"Through the evolution of the UPP program, whether doing live events, one-on-one coaching sessions, or mastermind events, we continue to learn that agents are gathering information in so many different ways in today's environment," he continues. "In 2017, through working with agents all over North America, we identified that the next logical step in providing them content and thought-process information would be a podcast."
The Unstoppable Profit Podcast debuted in February 2018. After a year or so of sporadic episodes, by November 2019 the show could be found weekly on platforms like Apple Podcasts, Stitcher, Google Play, the podcast's website, and YouTube.
"People can actually watch the podcast," Stromsoe says. "They love the visual aspect, and some people get more out of it." The podcast went visual last year during the pandemic, as more people gravitated toward sites like Zoom for video meetings and conferences. So now you can watch all the action taking place inside the "Living Agency Laboratory," the moniker that describes the agency that Mike still owns and operates.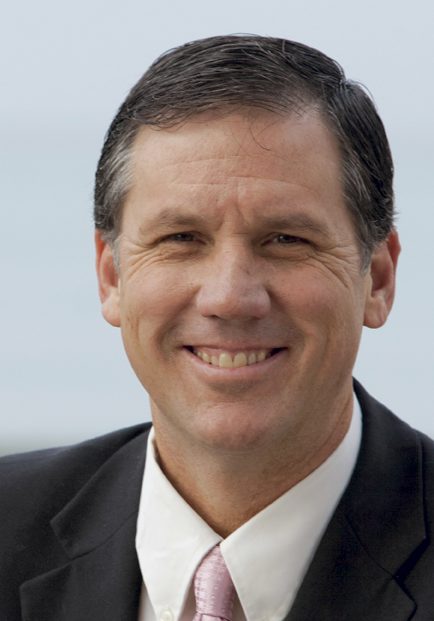 The episodes
Each episode begins with its voice-over introduction: "Welcome to the Unstoppable Profit Podcast. Wherever you are today, if you're starting with nothing or are well on your way to the success you desire with the right people, processes and promotions in place, you will be unstoppable."
The podcast's production is handled by a crew of three: Stromsoe, Andrea Wyatt, UPP's program director, and tech guru Josh Nadler, with the fourth person involved being the episode's special guest. "The guests are mostly independent insurance agents, but they also include key people in the business industry, inside of and outside of insurance," Stromsoe says.
A few non-insurance industry guests have included former NBA coach Kevin Eastman, former NFL quarterback Joe Theismann, the "Soul Journeyer" Alana Fulvio, and author and international speaker John O'Leary.
Each episode is "100% about giving value," Stromsoe continues, "whether we are sharing proven strategies or our guest is revealing whatever they're willing to reveal, personally and professionally, and sharing anything that they're willing to share about their expertise and how it can help business entrepreneurs grow their business, create new opportunities, and maybe think a little bit differently."
An average episode of the podcast lasts around 30 minutes.
"There are lots of podcasts out there nowadays, and some of them go an hour,"Stromsoe says. "Our goal has always been to be about 20 to 30 minutes; we're looking for short, content-packed snippets that people could absorb from a drive-time standpoint."
The guests
A number of the agency leader guest son the Unstoppable Profit Podcast are high-achieving participants in the UPP program. "We get to honor coaching members on the podcast and have them share about the successes that they've achieved so far," Stromsoe says. "Those are the greatest moments for me person-ally. That's why I get out of bed—to help people and to help impact people's lives, personally and professionally."
With nearly 100 episodes in the books at the time of this writing, here's a sample of some of the agency leaders who have appeared as guests and the insights they shared:
Episode 28: Special Guests Jeff & Una Roy.
One of its lengthier episodes—a little over one hour—the discussion with Jeff and Una Roy of Excalibur Insurance Group in Clinton, Ontario, Canada, (the August 2018 Rough Notes Agency of the Month) provided best practices for agency success across four topic areas:
Creating a culture. "We feel culture is key," Jeff said. "As a leader, you set the tone, and make sure that everybody in your organization buys into the culture, demonstrates by their actions, and is always learning and always getting better. "[On a scale of ten] …, your staff are always going to be one or two points below. It's important that you try and come in every day and hit the ground running."
Developing a solid brand. "Most people want to be the 'father and son' insurance broker, and they want to talk about how great a service they give, which you can't," Jeff said. "It's like taking a picture of eight lawyers. Spot the best lawyer; you can't. You need to build something to differentiate yourself to make you look different and prove it right."
Developing sales processes in the digital world. "A good chunk of people are searching online, and you need to have a great online presence, a great website, and you need to make sure that your SEO is good," Jeff said. "Brokers and agents need to take SEO seriously. Make sure that you try and pop up on the first page for the services you want."
Service and sales experience. "I make sure that everybody has a scheduled hour or two hours a week where they're not on the phone, nobody talks to them, their doors are closed, and that is 100% just focused on time to get caught up so that they're not stressed," Una said. "Our meeting once a week also helps me find the ones who 'it's been a crazy week for them' and they may need an extra hour."
Episode 66: Strategies for Massive Growth, with Nancy Mendizabal and David Brush.
The principals of Apple Valley Insurance, Greenville, Rhode Island, joined the agency nearly 30 years ago and eventually purchased it from their father; Nancy and David are siblings.
Having achieved 63.1% growth in less than two years, the pair shared some secrets to their success and their views on remote work.
Considering the agency's growth, "we expanded our appetite, so to speak, for new business, and that provided a lot more opportunity," said Mendizabal. "We're always looking for new acquisitions, or partnerships, or any way that we can help another agency that might see a benefit to joining with us."
"The scalability and us growing, going forward, is accelerated by the possibilities of people with flexible work options, either in the office or out of the office, or a hybrid of both," Brush noted. "I think it opens our opportunities for choices of taking on team members, and then also to keep existing team members and to utilize everybody to their fullest capabilities."
As for the concept of remote work, it's "removed a lot of the distractions on a daily basis for our team, and they feel so much more efficient at home, and you just feel like they're more productive," said Mendizabal. "One thing they mentioned is that they have a little more control of doing the work on their schedule, rather than being at the mercy of people walking in the door.
"You have to just trust your team. I've never been one to micromanage. I truly believe that people do what they need to do, and they'll do the right thing. And I haven't had any reason to not believe that," she concluded.
Episode 68: How Failure Leads to Massive Results, with Chris Paradiso.
Chris Paradiso, the owner of Paradiso Financial and Insurance Services in Stafford Springs, Connecticut, shared the five lessons of making failure necessary:
Experience. "When you go through something and you can walk away with a first-hand experience, it helps us to develop a deeper understanding not only in life or business, but a lot of things."
Knowledge. "My grandfather always said that one thing nobody can ever take away from you is knowledge. Knowledge is king. Knowledge can be harnessed in the future to overcome the very failure that inflicted so much pain to you in the first place."
Resilience. "Failing in life helps you build it. We all need it. We all want to quit at times, but quitting is not an option."
Growth. "If we're not growing, where are we? We're stagnant and stagnant is not a good place to be. Growth is key. In business, we can talk about it all day."
Value. "One of the biggest lessons we can all learn in life's failures is it's necessary to create and spread an exceedingly high amount of value. Value lies in the heart of success, and the lack of value is a fundamental pillar to failure.
"Fear stops you from failure, but fear stops you from growing. And if we embrace fear, and embrace change and the possibility of failing, you will grow and grow in a big, big way," said Paradiso, whose agency was Rough Notes Agency of the Month in August 2009.
Episode 74: Size DOES Matter in the Niche Dominated by This Agent.
Guest Toni Shibayama, managing partner and chief risk officer at ISU S&K Financial and Insurance Services, has only approximately 70 to 80 clients, but a healthy seven-figure revenue in her book of business. Composed of around 70% employee benefits business and 30% P-C, the Rolling Hills Estates, Los Angeles-area agency's niche is private clubs.
"We were born and bred just to sell benefits," said Shibayama, who purchased the agency started by her father. "As we saw ACA coming to fruition, we said we should probably become a full-service agency; and being that now, it's much easier for us to cross-sell.
"My father had some pretty brand- name, recognizable country clubs, and from that we've been able to springboard and really have a niche in private clubs," she added.
After an impromptu speaking engagement with an international group of private club general managers in 2020, "we've gotten a certain reputation as a niche expert," she said. "I'm excited for the future regarding all the opportunities we have."
Episode 75: The Five Disciplines of Being a Social Media Authority.
Born in South Korea, Daniel Seong, president and founder of Great Park Insurance, Irvine, California, immigrated to the United States at the age of five. He shared how Yelp has played a role in his agency's success.
"The community finds us on Yelp," he said. "The only way you're going to ask for a review is if you truly in your heart feel like you deserve one. So we operate with the end in mind, and it's been a true blessing for us.
"I started from scratch literally by myself; back then Yelp wasn't what it is today. But I thought, I don't have any money to buy leads, I'll just start with this."
Great Park is now one of the highest-rated agencies in the country.
"It's been so diligent, persistent, and disciplined," Seong said. "One of the sayings in our office is the most important review of your life is the next one. It doesn't matter if you got 10 reviews today. The most important one is the next one.
"There's never been a time in history where you can capture so much attention for free," he continued. "Not only do we engage on Facebook, LinkedIn and Instagram, we have just under 2,600 photos on our Yelp account [at the time of the podcast]. We want the public to connect with us, even though they've never met us before."
Episode 82: InsurTech from THE Legendary Source.
Frank Senter has 45 years' experience bringing technology solutions to the insurance industry, from developing the first ACORD forms-based policy and claims system to developing the Sagitta agency management system. He shared tech products that agents and brokers should be using like the Insurance Agent mobile app (www.insuranceagentapp.com), which has a white label for an agency's own logo to appear on.
"It does everything from an inventory of your valuables in your home, which is an upsell opportunity for every agent and broker," he said. "It also includes the ability to integrate with your agency management system, and the customer can see all the coverages in their app. It can provide them with the ability for proofs of insurance like an auto ID card, and it also gives them the ability to request changes and to communicate with their agent or broker, and it gives the agent or broker the opportunity to communicate with them."
Senter also recommended chatbots and AI and machine learning.
"I know everybody's heard about it. It's not rocket science; it's not mysterious; and it's not magic," he said. "It's giving the power in the system to analyze vast amounts of data—which we're unable to do—to identify patterns. Human beings are very good at identifying patterns, but we don't deal well with large masses of data."
Episode 91: The VIG Way Leads to Profits.
Jose Villa, vice president of Villa Insurance Group (VIG) in Lynnwood, Washington, and the guest on the first episode in 2021, stressed the importance of implementing technology.
To streamline workflow, Villa created 15 online forms, including ones for messaging, quotes, renewal surveys, and certificates of insurance, among others.
"Before we had all these forms, we got 10 to 15 calls a day requesting a certificate of insurance," Villa said. "All I'm doing is answering the phone for a certificate and I'm not making money like this.
"Then a light bulb turns on; I can do a form online, send it via email or text, and they fill out the form when they need that certificate. They don't have to call us anymore. I now get maybe one or two calls a month for a certificate."
Episode 96: Making the Donuts with Bradley Flowers.
Bradley Flowers, founder of Portal Insurance in Mobile, Alabama, and a co-host of The Insurance Guys Podcast, provided some best practices on getting appointments with carriers.
"Ninety-nine percent of the agents that reps are talking to, who are asking them for appointments, are either average or appear average," he said. "You have to show them how you are not average. You do that by the way you present yourself professionally, the way you talk. Write a good business plan and send that to them, even if they don't ask for it."
If your appointment gets turned down, "just because they tell you, no, you don't go away; prove to them what you can do," Flowers continued. "As a salesperson, you know about halfway through the appointment if the answer is going to be no or not. Once I realize the answer is going to be no, I do everything I can to turn a no into what I call a 'soft no,' which is a 'no, not right now, but maybe in the future.' Then my goal is to figure out something about that person that gives me an opportunity to follow back up with them in a couple of months."
Flowers also shared how Portal Insurance documents the agency's happenings on a YouTube vlog called "Making the Donuts."
That's a wrap
Like his special guests providing words of advice to the podcast's listeners, Stromsoe shares some final words of wisdom.
"I always try to be thinking, what can I do today to help (fill in a name) achieve what (their name) wants? At the end of the day, that's what we try to do. That's probably the biggest reason that we do the podcast, because we want to simply insert the listener's or viewer's name into that statement. That's our mission. That's our goal," Stromsoe concludes.
Now, as the podcast closes, "go out and make a difference, be unstoppable and leave no regrets."
For more information:
Unstoppable Profit Podcast
www.unstoppableprofitpodcast.com