LOOKING BACK, LOOKING AHEAD
WRIGHT-GARDNER INSURANCE, INC.
Fourth-generation Maryland agency marks 105 years of success, sees promising future
Having recently marked its 140th anniversary, Rough Notes is celebrating its long track record of supporting the independent agency channel by profiling agencies that have been in business for 100 years or more. In this month's article, we feature a firm founded exactly 105 years ago.
By Elisabeth Boone, CPCU
Then …
In 1914, Frederick C. Wright Sr.,
and Charles F. Strole formed the Strole Realty Company in Hagerstown, Maryland. While selling homes, Wright decided he could sell insurance policies to his clients as a way of rounding out services to the local community. After serving in the U.S. Navy, Frederick C. Wright Jr., purchased the insurance side of the business from his father in 1936 and founded the Strole Wright Insurance Agency. In 1938, J. Arthur Speicher joined the firm as an independent broker. The W. Murray Bachtell Agency was purchased in 1940, and with this purchase came Clarence S. Gardner Jr., who had been associated with his father-in-law (Murray Bachtell) since 1937.
The agency incorporated and changed its name to Wright Speicher & Gardner, Inc., in 1954. Fourteen years later, in 1968, the name was changed to Wright-Gardner Insurance, Inc. In 1998, Wright-Gardner purchased Tischer & Associates, a local independ-
ent agency that specialized in contract surety. Although all of the founders—Frederick C. Wright Sr., Frederick C. Wright Jr., J. Arthur Speicher, and Clarence S. Gardner Jr.—are deceased, their commitment, dedication, and mission to serve the insurance needs of the community live on with the fourth generation of management led by F. Christian Wright IV, the great-grandson of the original founder.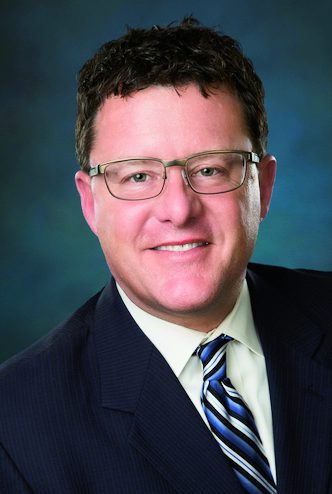 Now …
"The insurance industry is in constant flux," observes F. Christian Wright IV. "We have seen insurance companies come and go, markets soften and then harden almost overnight, and products develop from infancy to blockbuster success. Our ability to adapt to these changes has allowed us to remain the go-to agency in our territory. We constantly look at our carrier mix to ensure we have the markets our clients need.
"Technological advances have created the greatest disruption in the way we conduct business," Wright continues. "It used to be that you could write a piece of business on a napkin with a handshake to seal the deal. Then paper applications and supplemental questionnaires increased the amount of underwriting information needed to simply get a quote. Technological advances helped streamline this process, but we still needed to send submissions to underwriters in the hope of getting quotes back in a few weeks. Now we quote most of our business online and turn around quotes within days, if not minutes, instead of weeks," Wright says.
"Client expectations also have changed dramatically over the years," he remarks. "It used to be accepted practice to respond to clients with answers in a week or a few days. Now, if you don't respond within minutes or by the end of the business day, clients will think you don't care and will move on to another agent. Consequently, we have had to adjust the way in which we respond to ensure our clients know we are on it and they needn't look elsewhere.
"Retaining business is our number one priority," Wright asserts. "We do this by staying in touch with our clients, following up on any outstanding items, and educating them on how to become savvier insurance buyers. That said, we still focus much of our effort on acquiring new business, either through new client acquisition or upselling/cross-selling current clients. Frederick C. Wright Jr., instilled the belief that selling at least one policy per day guarantees success. To this day, we still write at least one new policyper day."
Like most independent agencies, Wright-Gardner experienced a major transformation when it entered the world of automation.
"In the early 1980s, Wright-Gardner was one of the first independent agencies to purchase an IBM mainframe computer," Wright recalls. "The mainframe occupied an entire 500-square-foot office with its own cooling system to ensure the computer did not burst into flames. Now we have one email server with the rest of our systems operating through cloud-based technology and remote backup. The computer room looks eerily empty compared to what it looked like with that original IBM mainframe. We use the latest technology with encryption and redundant firewall protection, multiple screen displays to ease the process of multitasking, remote access, and smartphone/tablet capabilities. We currently use Applied Epic as our operating system along with Microsoft products and other industry-leading software," Wright says.
What factors does Wright think account for his agency's longevity?
"To survive for more than 100 years, you have to be willing to adapt to change, both external change that is forced on you and internal change that you force on yourself," Wright responds. "In other words, you can't rest on your laurels. Carrier requirements to incorporate certain technology into our workflows, online rating, lightning-quick turnaround expectations from clients, and reduced commissions are just some of the external changes that we accept. But to stay ahead of the competition, you have to ask yourself, 'Why us and not them?' We ask this question of ourselves every day. We answer it by reflecting on our successes and failures, looking for ways to improve our outcomes, and sharing our findings with everyone in our organization. We promote education and reward our employees for their success. We set realistic goals, celebrate our victories, and share in each other's success."
Will Wright-Gardner be perpetuated by a fifth generation of the Wright family?
"My wife, Julie, and I have two teenage children, Frederick Christian Wright V, and Laura Katherine Wright. Time will tell if either of them wants to carry on the family tradition. In any event, Wright-Gardner has enjoyed the many fruits of its labor helping clients protect their assets, so all signs point toward another 100 years of moving the business forward. We look forward to the next 100 years!"
If your agency was founded in 1919 or earlier and you'd like us to consider featuring it, drop a note to davew@roughnotes.com. We'll be in touch.