Agency of the Month
LOOKING FOR NEW BUSINESS
Northern Michigan agency turns its sights southward
By Jenny Berner
When Donald Bartosh established Top O' Michigan Insurance Agency (TOMIA) in Alpena in 1974, he clearly envisioned an agency that would provide insurance solutions to the people and businesses located in northern Michigan. Today, however, the agency has developed grander plans that include moving into areas outside the state, continuing a steady pattern of growth that has seen the agency expand from one office to eight. Much of that increase has been led by the agency's current president, Brian Bartosh, CIC, LUTCF, who joined his dad at the firm in 1979.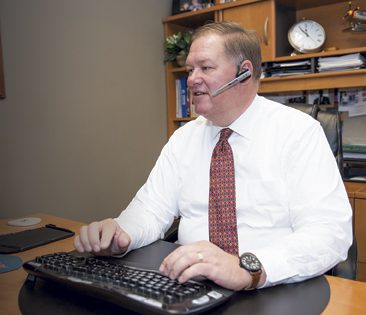 When he signed on, Brian had time to look at new ideas that would make the agency unique and ahead of the curve. And we all know what was driving change back then and continues to do so today: technology. Brian saw automation as a way to support the efforts of the people who worked at the agency. Even before PCs became ubiquitous, he recognized that there were functions that a computer could perform better and faster than a human, allowing staff members at the agency to spend more time on providing better service to clients.
After surveying what was available, the agency signed on with Applied Systems in 1984. "We've been with them ever since," Brian says, "although there have been a lot of hardware and software changes.
"Marketing was why we chose Applied," he adds, "and we continue to look at communication and marketing management as important factors in our continued growth."
Tech's continuing role
Not surprisingly, technology continues to play an important supportive role at the agency. The latest innovation was the agency's creation a couple of years ago of what it dubbed the "producer playbook." According to Tyler Bartosh, CIC, vice president of sales at the agency: "The playbook provides a roadmap for producers to follow throughout the sales process. It guides them through the entire process, starting with prospecting efficiently, so they have the best opportunity to get an appointment, and then identifying the wedges that will help them demonstrate to the prospect that we offer unique solutions to their risk management problems.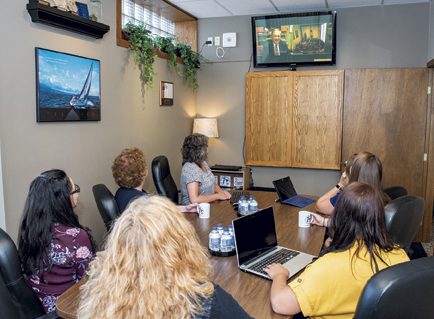 "Insurance isn't 'one size fits all.' That's why we emphasize the need to develop those wedges before the producer goes to the first appointment," adds Tyler, who is Brian's son. "This ensures they have an understanding of the risk management needs that the prospect is facing and possible solutions that fit within their budget."
He admits that the playbook partially came about from his own struggle to get out of a valley he was in. "I realized it was because I had stopped doing what made me success-ful in the first place. I needed the structure in place for a consistent client experience; I had to do my homework before I met with a client or prospect.
"I felt that if I didn't," Tyler adds, "I was doing a disservice to clients. So the playbook really began as a way to get me back to square one—to serve as a tool for me to prepare consistently." It wasn't too long before he realized the value it could bring to all of the agency's other producers.
Brian picks up, noting that the playbook started as an optional resource for producers to use if they felt that they needed the help. But that changed. "Using our technology, we followed the results of all our producers—both those who used the playbook and those who didn't. What we found out was that the producers who used it had 20% better results.
"When we saw that," he adds, "playbook use moved from optional to mandatory. Today, it contains eight sections, going from building sales rapport to retention. All the different contact points are built in, from initial contact to reintroduction if the account is lost. It keeps the pipeline full.
"We also use technology to track activity," Brian continues. "We've found that we can predict income based on activity. We focus on activity and flow rates, close ratios and success ratios. This really helps us when we bring on new producers. We know after six months whether they are working out."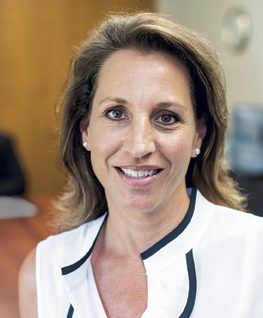 Supporting a team mentality
Technology also plays a key role in helping Samantha (Sam) Bonter, AIC, CIC, vice president of operations, achieve one of her most important goals: to make certain that the agency's culture is one that supports every team member in every office—helping them feel empowered, moving forward and, most important, a part of the TOMIA team.
"As my title implies, I am responsible for overall operations," Sam says. "That involves collaborating with leadership on strategy and then determining how to achieve both the short-term and long-term goals that leadership has identified. To do that, I have to ensure that we have a team of people who also are focused on those goals."
The agency employs nearly two dozen people but is adding to its ranks rather quickly. "I have to make certain that each person on the team feels like they are part of a team that is helping them achieve their individual goals," Sam says. "Everyone's needs are different, but they all want to feel like they are an important part of the organization.
"Some want to advance continuously, some may be looking to move to different areas within the agency, some may want to learn more about their particular area of expertise," she adds. "We try to accommodate all of these different desires, so that each person has an opportunity to be successful while at the same time contributing to the overall success of the agency." To drive that, Sam holds personal, one-on-one meetings with every agency team member to talk about professional development.
Tech supports this personal engagement in the multi-site agency. "Video conferencing has been a key part of helping us maintain a team mentality," Sam explains. "Some of our offices are one-person operations. Technology can really bring us together so these individuals don't feel like they are on an island without any support.
"But even more important than having them feel less isolated," she adds, "we also use the video conferencing to share our wins and challenges during our weekly team huddles. This connection helps to develop a bond that we believe will allow us to maintain a camaraderie that has been part of the agency since its founding as we move into other areas of the country."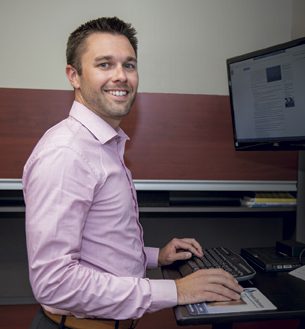 Moving forward (and southward)
TOMIA also has been working on rebranding the agency. They have adopted the new name Spire (which internally stands for Solution Providers of Insurance with Real Expertise and which may become part of a mission statement in the future) as they moveinto other states where Top O' Michigan may not be the best name to engage prospects in other states.
"We created Spire quite a few years ago to write pet care and resorts and camps, as well as some small commercial risks," Brian says.
"Rebranding to Spire allows us to grow outside of Michigan," Sam says, noting that the experience with "developing the infrastructure required to keep eight offices functioning as part of our team shows us the way to support virtual offices outside of Michigan. Spire allows us to not be limited by our name."
Help is on the way … no, it's here
In 2017, the agency became the ninth Michigan partner of Keystone Insurers Group, an independent agency network. "This has given us access to incredible intellectual power; the Keystone partners are amazingly helpful," Tyler says. TOMIA was recently named Keystone's 2019 Michigan State Partner of the Year.
"We are looking to combine the expertise from our Keystone partners with our own expertise to move into areas that are new to our agency and the Keystone footprint; the prospects are very exciting," he adds. "We plan to add more satellite producers who are very knowledgeable in one or two niches who can operate as part of the team, thanks to video conferencing.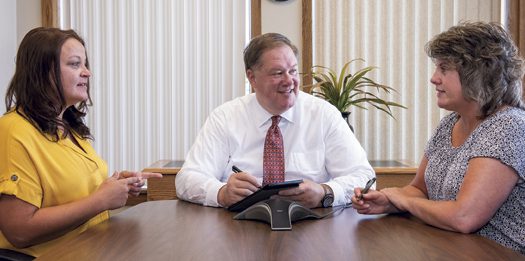 "Every Monday morning, our entire team joins a virtual meeting place for our huddle," Tyler explains. "This is a time to celebrate wins, identify roadblocks, and share important industry communications.
"We follow a similar structure with bi-monthly sales meetings, where we work on skill building, strategize on new accounts, and identify common issues insureds may be facing—such as audit problems, OSHA concerns, risk improvement, and so on," he adds. "We try to anticipate problems that current clients may be dealing with and even those that are challenging our prospects, so we are prepared with solutions when we go into meetings with them."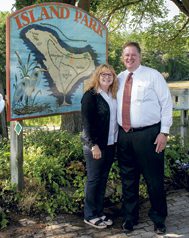 Equally important is the fact that TOMIA and Spire have not forgotten one of the strengths of the independent agency system: They are local and support the communities where they do business. TOMIA has a program that allows every employee to donate eight hours of their time to a charity. They also have a program called We Care that donates every month to a local charity that is recommended by an employee or nominated from within the community.
Brian concludes that the agency "has always embraced change, but not just for the sake of change. We look at it in terms of how it will benefit clients. And we always bring the team in to be part of the process so that they own it and can answer the most important question: 'Why are we making this change?' "
Rough Notes is proud to recognize Top O' Michigan and Spire for their commitment to moving forward. They justly deserve to be our Agency of the Month.
Caption: From left: Stephanie Melton, Licensed Solution Provider; Tyler Bartosh, CIC, Vice President of Sales; Misty Livermore, CISR, Licensed Account Manager; and Brian Bartosh, CIC, LUTCF, President