MGA/BROKER FOCUS
TALKING TELECOM
Specialty MGA places cell tower risks with an A+ admitted carrier
By Elisabeth Boone, CPCU
Where would you be without your mobile phone?
If you're like most of us, your life would come to an utter standstill. You'd have no access to your contacts, your calendar, and your to-do list. And forget those emails about delicate acquisition negotiations … the photos of your daughter's first gymnastics competition … this morning's text from your spouse that said: "I love you … have a great day!"
No doubt about it, mobile phones are our vital connection to just about everything, from the office to home to that great Thai restaurant—and so much more. Our mobiles also serve as devices that alert certain others to our whereabouts. If you've ever watched a true crime show on TV, you know that a suspect who lies to police about where he or she was when a crime was committed can be squelched when cell company records show the suspect's phone pinging off a tower close to the scene of the crime.
Most of us don't give much thought to cell towers, but they are the "engine" that transmits the billions of calls made daily from mobile phones around the world. Cell towers house electronic equipment and antennas that receive and transmit radiofrequency (RF) signals that make mobile phone communication possible.
"The telecom industry is unique because the technology is always changing. … From an insurance standpoint it is a challenging class of business."
-Bruce Eades
President
USA Telecom Insurance Services
What about insurance for cell towers … and what about the opportunity for retail agents to create a profitable niche in this space by partnering with a managing general agency that specializes in arranging coverage for these hard to place risks?
Enter USA Telecom Insurance Services, a wholly owned program administrator subsidiary of Insurance Office of America. Based in Gainesville, Georgia, USA Telecom opened for business in February 2016 under the leadership of Bruce Eades and Dennis Robinson. Eades, a 35-year veteran of the industry, serves as president, and Robinson, with 17 years' experience in the industry, is chief executive officer. The firm has served more than 100 telecom companies and their insurance needs over the past decade.
"We provide dedicated expertise to meet the unique requirements of the massive communication infrastructure in the United States," says Eades. "In doing so, we also meet the needs of retail agents who may struggle with placing coverage for contractors who service cell towers and broadcast towers."
Given the risks inherent in operating and servicing these towers, it's understandable that many insurers shy away from this class of business, mainly because of its height exposure. Cell towers can be anywhere from 50 to over 200 feet high.
"The telecom industry is unique because the technology is always changing," Eades explains. "Keeping up with demands constantly requires equipment at the tower sites to be changed or improved. From an insurance standpoint it is a challenging class of business. Telecom contractors are required to meet stringent insurance requirements by communication companies like AT&T, T-Mobile, and Verizon and by tower owning companies like American Tower and Crown Castle."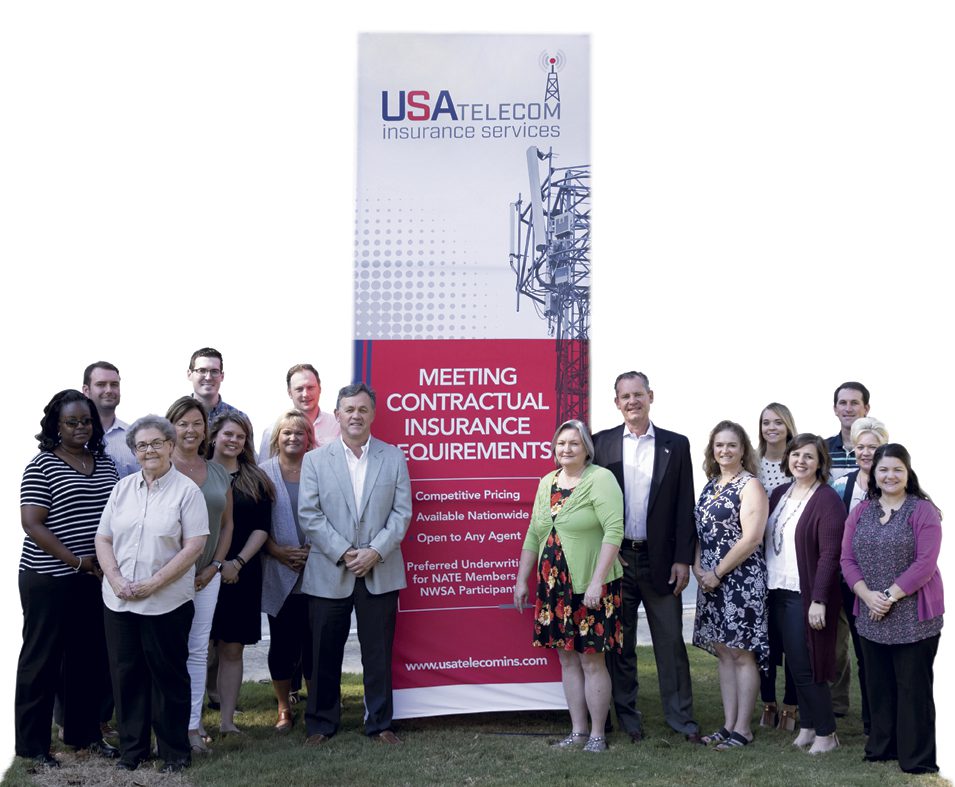 Getting the pen
"The USA Telecom vision became a reality when Dennis Robinson had a conversation with Allianz, and it ultimately extended the pen to us so we could deliver an all-lines solution to telecom companies," Eades says. "Being able to place business with an A+ admitted carrier partner gives us a significant competitive advantage."
At the end of 2016, USA Telecom had only one retail agent offering its program. By year-end 2018, another nine agents were on boarded. Today the firm's distribution channel has grown to almost 80 retail agents, and it also has expanded its roster of carrier partners with the addition of Amerisafe, Berkshire Hathaway, and Crum & Forster. The firm does not write any business on a direct basis.
USA Telecom closed out 2016 with written premium of just $200,000. By the end of 2017 the figure was over $4 million; by the end of 2018 it had more than doubled to over $10 million, and the firm expects to finish 2019 with written premium of $16 million.
"USA Telecom is one of the nation's leaders in providing insurance to the wireless construction industry, with an exclusive general liability and work comp program dedicated to this segment," Eades says. "We are active in the National Association of Tower Erectors and most of the state wireless associations. In a recent survey, our clients said they chose USA Telecom for the following reasons:
Knowledge. We have in-depth knowledge of the telecommunication industry.
Contracts. We understand the contracts our clients are required to sign by communication companies and tower-owning companies.
Exclusive insurance program. Over 70% of our new clients realized a five-digit savings in their premium.
Workers comp expertise. We understand that if experience mods are over 1.00, it may jeopardize contracts. We can help clients lower their mod.
Safety training and risk management. Our tools can help clients reduce their training expenses. We have some of the best training resources in the cell tower industry.
"With the guidance of our clients and our deep understanding of the tower construction industry, we have designed insurance programs and systems to help our clients meet their objectives," Eades says.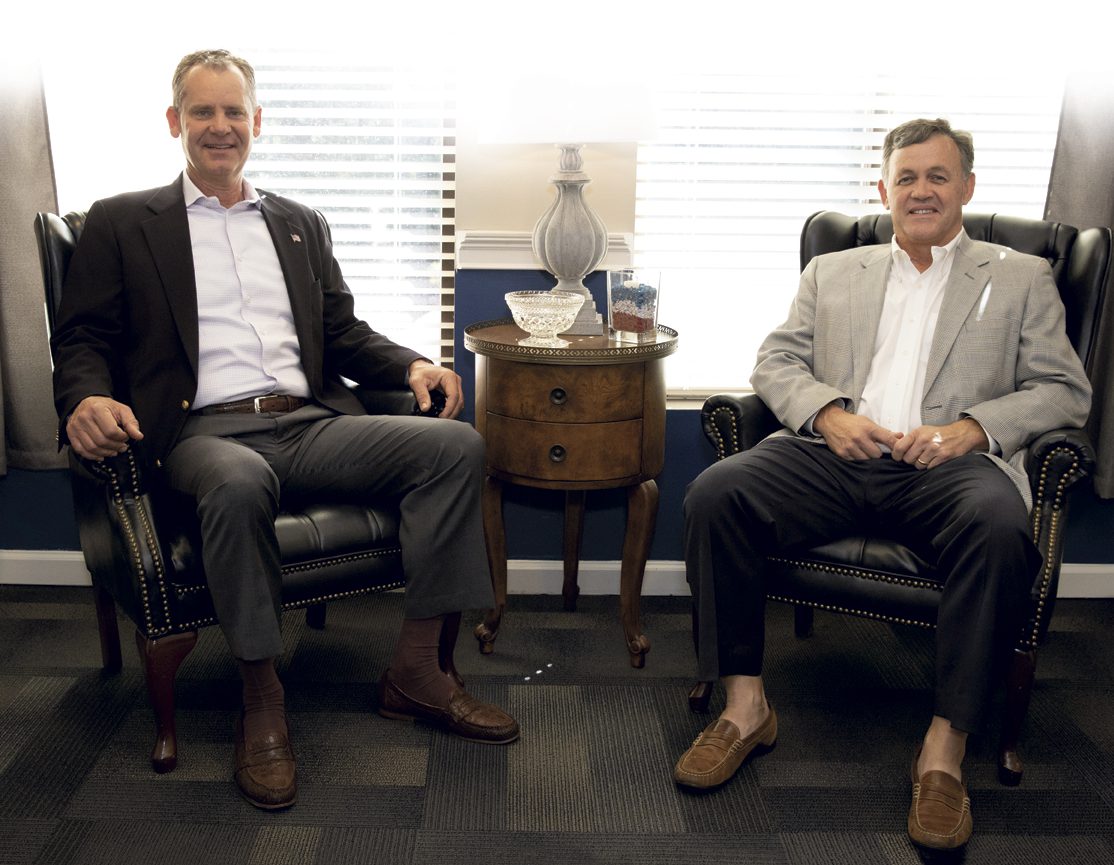 The major loss exposures for telecom firms, Eades explains, are workers compensation because of the potential for falls and commercial automobile as a result of heavy over-the-road travel and theft of equipment. "Frequency is not typically an issue, although loss severity can be, especially in the case of falls," he says.
"While performance varies from line to line, the USA Telecom loss ratios are excellent," Eades remarks. "Much of that can be attributed to a thorough and comprehensive underwriting process. Our ultimate objective is to be the go-to market for any risk that involves telecommunications. We believe it is an exceptional class of business because these contractors are intently focused on safety and the owners are incredibly bright, loyal, and well capitalized individuals who do not cut corners."
"Our continueddouble-digit annual growth has us excited about our future as the MGA/wholesale leader in the telecom space."
-Dennis Robinson
Chief Executive Officer
USA Telecom Insurance Services
Classes and coverages
Eligible classes for the USA Telecom program are cell tower maintenance contractors, civil contractors, tower erectors, lighting contractors, fiber/dry utilities, small cell operations, distributed antenna systems, concealment manufacturing/installation, caisson work, and radio frequency and line and antenna contractors. "We are looking to partner with companies that take safety and risk management seriously," Eades declares.
Available coverages are general liability, property, crime, commercial automobile, inland marine, pollution liability, umbrella, drone, and workers compensation in all states except Alaska, Hawaii, North Dakota, Ohio, Washington, and Wyoming.
Endorsements provided are per-project aggregate, waiver of subrogation, 30-day notice of cancellation, additional insured, and primary and non-contributory negligence.
In addition to Eades and Robinson, the USA Telecom team consists of Steve Thompson, managing partner; Carla Buff, operations manager; Pam Miller, program manager; Bethany Miller, renewal underwriter; and Morgan Gordon and Tyler Orlando, underwriting assistants.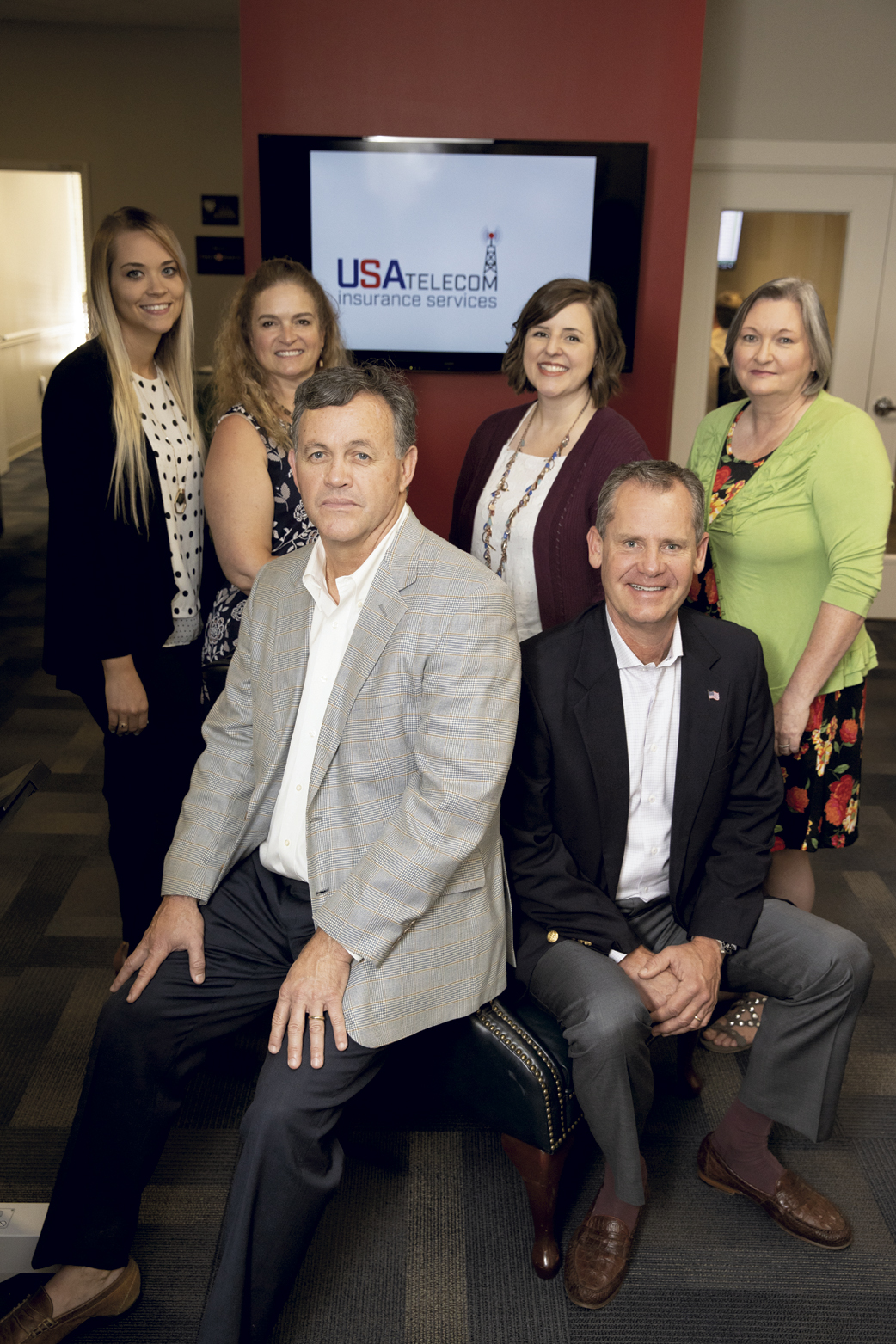 "We would not be where we are without our talented, hard-working team who contribute so much to our success," Eades asserts. "Thompson and Miller have shown amazing leadership. Our experienced team has serviced scores of telecom companies and met their insurance needs for more than 10 years. They understand the specifics of tower erection, line and antenna work, distributed antenna systems, and small cell operations.
"Also deserving of recognition is our board of directors, especially John Ritenour, Heath Ritenour, and Jeff Lagos. The support we receive from our board is a key contributor to our success."
Eades himself is held in high regard by Tom Caruso, AAI, CRIS, senior vice president-commercial lines for Insurance Office of America's New York City region. Here's what Caruso had to say about Eades:
"… Bruce Eades has truly captured the essence of the culture at IOA, which embodies a genuine approach to 'giving back.' Whether it's giving back in the form of sharing the wealth of insurance knowledge he has developed over 30-plus years with up-and-coming producers, giving back to his team by devoting his time, talent, and treasure to the advancement of the future generation in our business, or giving back to his community, he is unquestionably leading the charge as we usher in the next generation of producers at IOA."
A path for agents
"If you are an agent who is trying to place a telecommunications contractor, you may face great difficulty finding markets that will write all lines of coverage," Eades observes. "As noted earlier, insurers generally have no interest in telecommunications companies because of the height exposure. The USA Telecom program is an all-lines package with no minimum premium and competitive rates and commissions. Our A+ admitted carriers meet all of the contractual requirements of telecom contractors."
Eades sees telecom as an attractive opportunity for agents and is eager to bring new agents on board at USA Telecom. "For retail agents who want to create a new niche in their agencies, I strongly encourage them to explore the potential of telecom business to become a key profit center," he says. "USA Telecom can help retail agents understand this industry and become familiar with the terms and conditions of contracts and the relevant coverage forms and endorsements."
For more information:
USA Telecom Insurance Services
www.usatelecomins.com