Responding to Change
As a small MGA, Rockwood Programs has remained competitive by continuing to reinvent its business
By Lori Widmer
---
Glenn Clark, CPCU, is the restless  type of executive. He believes business has to reinvent itself every day. It is a guiding principle that Clark, president and CEO of Rockwood Pro-grams, lives by and has demonstrated over a decades-long insurance career. For the past 26 years, Clark has headed Rockwood Programs, a specialty program manager whose business model is one of continuous reinvention.
That reinvention of a smaller MGA has taken on a path much like Clark's own professional journey. A self-professed career insurance guy, Clark has worked for the likes of AIG, Allstate and INA and has watched the evolution within the industry with keen interest. Working within personal lines at AIG on alternate distribution systems, Clark paid attention to those changes. "Something that really attracted me was when banks became involved in insurance in the early 1980s."
So he got involved in the distribution of insurance products through banks. That led to another opportunity in Paris, where AIG "was prepping for Europe anunity." Clark became president of Unat Direct, based in Paris and responsible for eight European countries.
A few years later he was stateside running the AIG-owned MGA business Morefar Marketing. "We were able to take those direct response concepts and apply them to the commercial marketplace, which made us innovators."
Over time, that innovation caught the attention of E. W. Blanch Company. "I was recruited to build them a primary distribution entity," Clark says. Unfortunately, the company ran into difficulties four short years later; the stock price dropped, and the whole business was put in peril.
What could have been the end of Rockwood turned into an opportunity for Clark. He borrowed money and purchased the MGA, thus becoming the owner in 2000. Today, Rockwood Programs maintains delegated under-writing authorities from several carriers—including Lloyd's of London and Fortegra. The agency has a network of over 10,000 sub-producers.
Doing business in admitted and surplus markets, the company services life and P-C agents' E&O, employment practices liability, and can bind over 2,000 professional liability classes. They also have a full-scale wholesale broker-age division in San Antonio, Texas, led by Mark Lann, for hard-to-place management liability risks.
"Where there is a gap in the market, our team attempts to uncover it and fill the gap with right-sized products."
—Glenn Clark, CPCU
President and CEO
Rockwood Programs
Reinventing through associations
Amid all this, Clark was noticing how specialist MGAs were not being serviced well by existing affinity groups. The AAMGA was doing a great job in the wholesale arena, PLUS in professional liability, RIMS for risk management-sized entities, and independent agents had the PIA and IIABA.
That sparked an idea in Clark. "Let's start a group specifically for program administrators. Program administrators are unique. They are specialists in the product lines they sell. Often they are operating as the sole distribution center for a carrier's product. The program manager may even manage the claims through their TPA relationships."
Clark's idea was BPS 2K—Blanch Program Services 2000. The goal was to get program administrators meeting and having Blanch-friendly carriers and reinsurers marketing to the membership, thus giving members a competitive advantage. While Blanch loved the concept, the company did not finance it, so when Clark purchased Rockwood, he launched the idea, which he named Target Markets, in 2001. (Note: Target Markets and Rough Notes have partnered for 20 years, and Clark serves as a Rough Notes Agents Editorial Advisory Board member.)
Since then, Target Markets (TMPAA) has grown to 80 carrier members and over 300 program administrator members. When the group was ten years old, he sold to Breckenridge Group and continued to head the entity on behalf of Breckenridge for another two years. The better-financed Breckenridge has grown the entity to what it is today under the leadership of Executive Director Ray Scotto.
TMPAA has not only given MGAs a place to meet and learn, but it has changed the conversation about MGAs, Clark says. Through talking with other program administrators, the group set standards and processes for carriers (such as following up on deals that were not finalized). "The dialogue between leadership and the carriers just made program business into a much more professional marketplace."
Meanwhile, Rockwood was becoming a more competitive group; however, they needed to diversify. "We were specialists in employment practices liability. EPLI isa unique product in that it covers acts that you do on purpose—discrimination, wrongful termination, and sexual harassment."
The natural next product line for Rockwood, Clark felt, was E&O coverage lines for retail agents and for insurance brokers and larger retail agencies. He was alerted by a carrier to an agency in Florida—Modern Insurance Agency, a two-person shop with a healthy E&O book of business. "We came up with a strategy to buy out the agency at 75%," which afforded Modern access to Rockwood's national arena. Within a few years, Rockwood purchased the remainder of the E&O business and still does business with Modern.
Another natural fit—Wright USA's specialized EPLI coverage focusing on federal government. In 2011, Rockwood bought Wright USA in a joint venture (JV) with Ironshore Insurance. A deal brought to Rockwood by Mystic Capital, Wright USA specialized in the federal government sector and provided coverage to higher-level federal employees. In 2015, Ironshore exercised their right to buy out Rockwood's interest at the five-year anniversary of the JV.
That wasn't the end of the reinvention, though. Over the next three years, Clark oversaw the founding of the Coverholders and Risk Takers Exchange (CHART-Exchange). The concept of CHART was based on the same ideals as TMPAA. It was an attempt to connect risk takers (syndicates of Lloyd's of London) with program specialists(Coverholders and program administrators) to create new business. Proving to be a bit financially unwieldy, CHART was converted into a JV with CBC Insurance Brokers to create a U.S.-based London brokerage and is now called CHART 2.0.
Reinventing through products
Meanwhile, the Rockwood reinvention continued. The company's focus on the needs of underserved markets has kept Clark and company busy. Over the last decade, Rockwood Programs has expanded its product offerings into more specialized areas of coverage. Financial institutions allied health-care, podiatric physicians, real estate, miscellaneous professional liability (MPL), and cyber have been added to Rockwood's portfolio.
And still more reinvention was on the horizon. Late in 2019 and into 2020, more products were added to Rockwood's offerings. The company added firearm liability insurance in response to what Clark says was a negative legislative environment that diminished the availability of coverage for gun owners.
In fact, the coverage came to fruition as a direct result of Wright USA's writing career protection for federal employees. "We repositioned the product as career protection," says Clark. "While Wright insureds needed a professional defense, it also gave us first exposure to guns. When the NRA programs were starting to run afoul of state legislatures, we launched a gun liability program so that any insurance agent in the U.S. could sell it."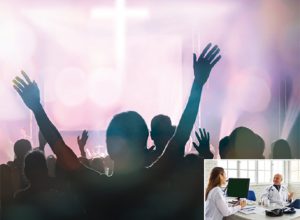 As the conversation surrounding guns continues to build to a pressure point, states are beginning to put regulations in place that mandate gun owners purchase liability insurance. Both New Jersey and San Jose, California, for instance now have regulations in place requiring coverage. Colorado and Mississippi have legislation under consideration. Clark believes the entire issue became muddied when the NRA was fined for selling insurance without being licensed to do so. Rockwood's product offers the liability protection required by current laws and is backed by a captive, established in 2020.
Since 2020, Clark says Rockwood has been busy partnering with other entities to develop new products aimed at emerging risks. New products launched or on the way from Rockwood include:
Patrol Protect. Liability protection for police officers who moonlight (43% of all police officers have part-time jobs that are often done without liability protection).
Career Protection. Liability protection for police officers if they are sued and not protected by their employer. As states enact legislation to require personal liability protection, this coverage will become more critical.
Church Security Teams. A commercial coverage for churches who create security teams.
Essential EPLI. An affordable cover for employment practices in California that emphasizes a professional defense (vs. large indemnity limits) to make it affordable in a market that has limited options.
Essential EPLI Plus. Same as above but aimed at first-time buyers in other states that have not purchased EPLI due to high minimum premiums.
Second Call Defense. Self-defense liability coverage for gun owners.
Each product offering added is in direct response to an underserved need. The focus—offering much-needed liability protection to those who may not realize they need it.
The message Clark wants agents and customers to get is this: With EPLI coverage, "Everybody thinks they have it already. My agent took care of it for me. Yet, it's excluded from any GL form. It's excluded from any D&O form, and it has to be bought separately. I tell people four things: One, you should methodically quote EPLI. Two, it'll mitigate your E&O. Three, you will differentiate your quotes from your competition. Four, you just might sell one," he says with a laugh.
Such a laser focus is the key to why Rockwood Programs is so successful under Clark's leadership. "Where there is a gap in the market, our team attempts to uncover it and fill the gap with right-sized products."
As he explains the building of the church security product, he talks about the development process. "One of the fun things about the business is you can invent creative solutions like this. One consequence is that you can be ahead of your time (on covering the risk) or you can make commerce for everyone else." He laughs. "You never reap the rewards. However, we simply cannot resist reinvention. It's the fun part of the business."
And Clark isn't done having fun yet. As he moves forward championing for the MGA system of distribution, Rockwood's reinvention continues.
The author
Lori Widmer is a Philadelphia-based writer and editor who specializes in insurance and risk management.